by Shari Sullivan
.
There's something for everyone at the Boulder Farmer's Market!
Every Saturday morning from April until November, you'll find the freshest of fresh fruits, vegetables, meats, cheeses and breads at the Boulder Farmer's Market! Since 1987, local growers have been bringing their best to sell to lucky shoppers who peruse 13th Street for tasty delights.
The market started with a few local farmers selling their produce off the backs of their pickup trucks and has expanded to become one of the city of Boulders main weekend attractions. The Boulder market was named one of the Top 50 in the country by Cooking Light Magazine in May 2015 and Vegetarian Times in June 2015.
At this lively market, you'll find everything from farm fresh eggs to delicious fresh goat cheese! The fresh-baked bread and muffins go quickly, so get there early for this tasty treat. Most Saturdays you can also find grass-fed beef that will make your mouth water. And for backyard gardeners, there are always tomato plants, herbs and other vegetable seedlings so you can grow your own.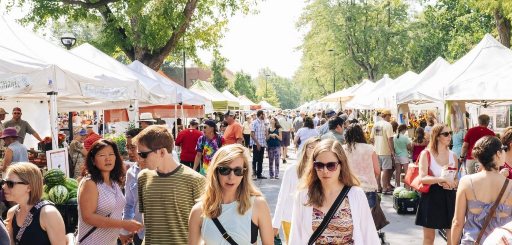 After shopping, be sure to visit the food trucks that are always parked at one end of the market. There is usually live music to dine by.. or even do a little dance if you're so inclined.
There is definitely something for everyone here, so when you're in Boulder be sure to pay a visit to this exceptional Farmers Market! For more information, please visit their website!
Happy Trails… Shari Sullivan
Senior Editor for Girl Camper
Alabama Girl Camper Chapter Guide
Georgia Girl Camper Chapter Guide
Follow me on Facebook at Girl Camper Alabama
and Girl Camper Georgia
Follow me on Instagram at Girl_Camper
https://girlcamper.com/alabama/
https://girlcamper.com/georgia/