Back when I still camped with the husband, somehow we always managed to wait to winterize our Travel Trailer until that one winter day when freezing rain was directly upon us. Like clockwork, every year. And the fact that we are still married for over 25 years is astounding, because that simple act of me trying to read him the winterizing instructions while getting pelted with sleet in below freezing temperatures was not a recipe for marital success—trust me.
Even after I started Girl Camping, I still did not winterize my own camper and paid upwards of $150 a year to my mobile mechanic to make it magically happen. UNTIL, I watched what is now my favorite how-to winterize video and figured out how truly simple it is!
Once I got my head wrapped around the water system layout and understood the objective (get the pink liquid to the appropriate places in my plumbing lines), I can now do it all by myself. My secret weapon is this YouTube video courtesy of All About RVs and I have shared it with loads of other RVing friends. He shows how to clear the lines with an air compressor (which is not what I do), OR, how to use your water pump to draw the antifreeze through all of your plumbing lines.
Once you take a peek at the video, see below for a few additional tips—learn from my trials and errors!
Watch the video, make notes, and keep them in your special folder of how-to instructions and checklists for your RV. Write them out like you are explaining it to a five-year-old and include drawings/diagrams. You will be glad you did.
Be sure to pick up the antifreeze made specifically for RVs and boats. This is the one I got from Wal-Mart this year and it was about $2.50 a bottle. My Class C motorhome only needs about one and a half bottles. https://www.walmart.com/ip/Super-Tech-RV-Marine-Antifreeze/17179674
Find out where your "low point drains" are located. I didn't realize where mine were and on top of that, one of the valves was stuck in the "open" position. I kept siphoning the antifreeze into the water system and didn't realize that it was dumping straight out onto the grass on the other side of my rig. Took three bottles to figure that one out. The low point drains should be closed.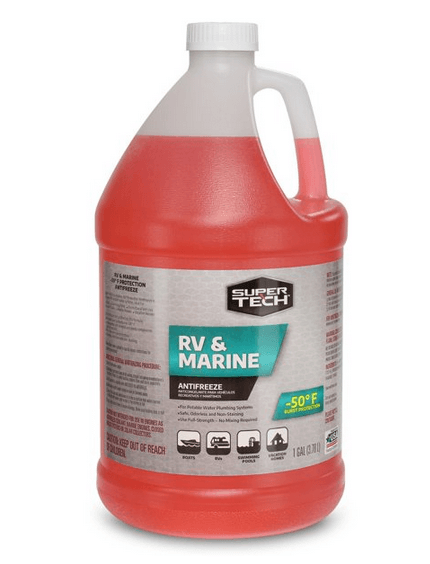 TIP: Some Girl Campers tuck their RVs away for the whole winter once they have winterized. And some will still go "dry" camping without water and rely on the bathhouse at the campground, jugs of water, etc. There are plenty of beautiful places to camp in this area all year round—just be sure to call ahead to make sure which areas of the campground are open in the winter!
Article written by Brenda Puckett, Oklahoma Chapter Guide