RAD POWER COMMMUTER BIKE
When was the last time you felt like a kid? Riding a Rad Power bike is so much fun and even going uphill is no problem! When I got my bike delivered, I found it was well-packed and had great instructions on how to put it together. After powering up over-night, it was ready to ride!
I am impressed with how well built, sturdy and comfortable it is. The tires are fat and I feel secure riding on gravel or pavement. I picked the dark green color and nicknamed it "Mean Green."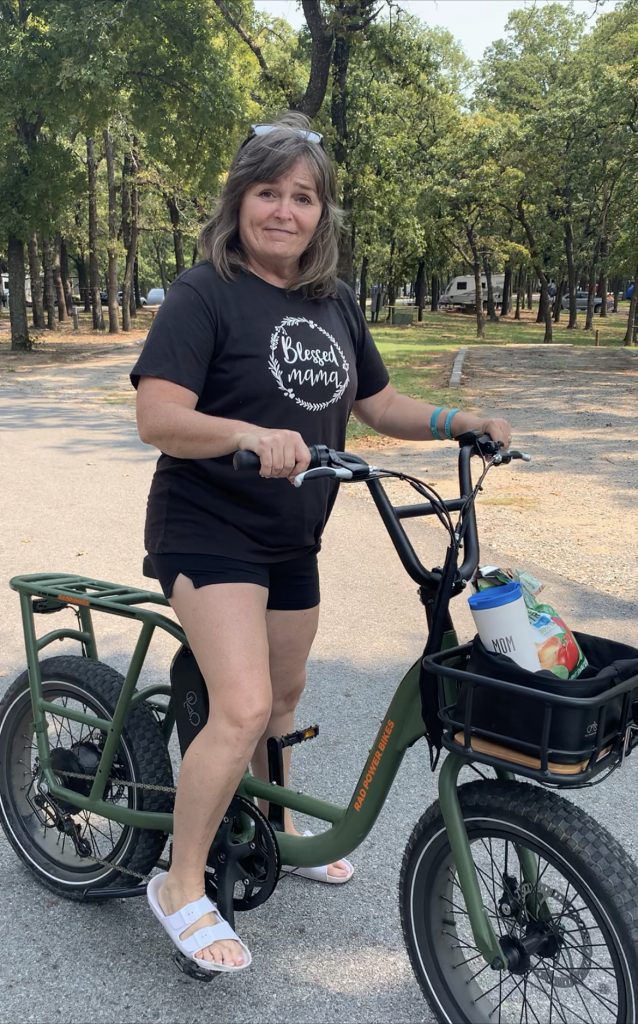 The seating is at a great height and the handle bars are at a nice level. Using the throttle took a little time to get used to. Happily, it has 60 hours of throttle time. The more you use, the more often you will have to charge. The more you use the petal, the less you will be using the throttle.
When commuting to work or traveling around the campground, this is an easy-to-use option. The weight of the commuter bike is 50 pounds, so you might need a ramp to help you lift your bike on a rack or load it into a truck bed. My Rad Power Bike will actually fit across the back seat in my Ram truck with the seats up.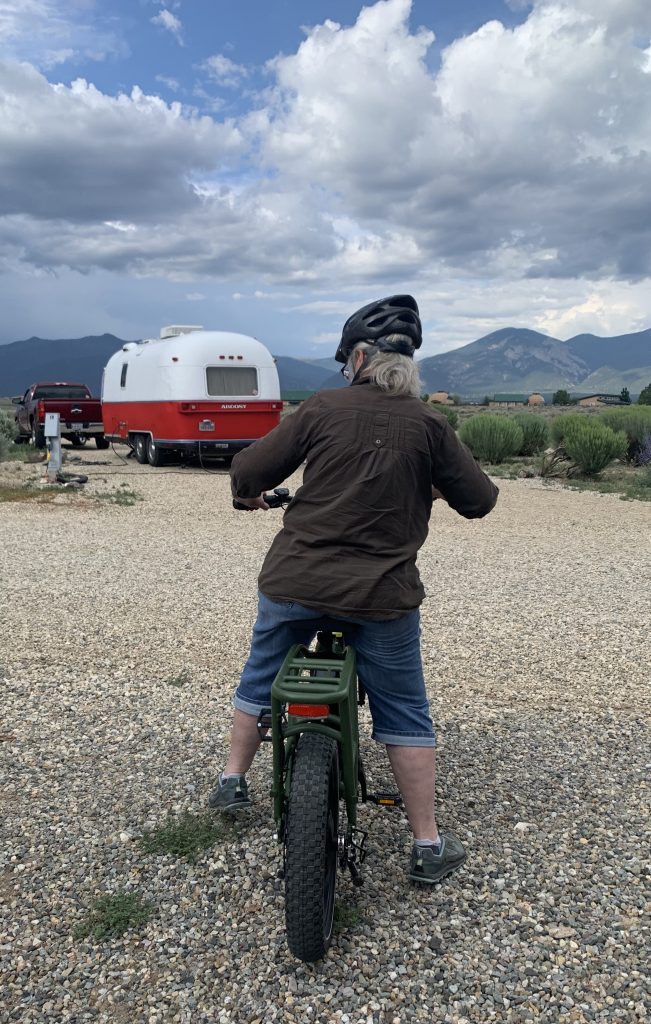 I strongly recommend this bike for camping, at home or on bike paths. I see using it to run to a nearby town for groceries when staying at a campground. You can order a front basket and a back basket for carrying packages.
This bike is built to last, the frame is strong and I look forward to using it and having this well-built bike for years to come. It feels great to be a kid again!
Written by Bonnie Shafto |Girl Camper Guide
Connect with Bonnie & her Girl Camper Group
Facebook Page –https://www.facebook.com/girlCamperNorthTexas/
Facebook Group – Please join the New Mexico Group so you can participate in this supportive and fun community! New Mexico Chapter Group and North Texas Chapter group
https://www.facebook.com/groups/girlcampernorthtexas
https://www.facebook.com/groups/girlcampernewmexico
Instagram – follow me for snap shots of the camping life: Instagram Girl Camper Bonnie S
Events-Be sure to check out the Girl Camper Events I'm hosting.
SAVE 15% on Harvest Host using this code – http://harvesthosts.refr.cc/bonnieshafto1
For the best prices for renting a Outdoorsy Trailer, please us this code. http://tinyurl.com/girlcampernorthtexasoutdoorsy
Link for the Rad Power Bike-