Why do I need one?
If I had a dollar for every time I've needed a quality air inflator, I would be a very wealthy Girl Camper. Even more important that INFLATION, this Girl Camper needed a tool that was capable of DEFLATING my "toys" as well. Not many things are more frustrating than kneeling on the ground – trying to roll, squeeze and push the last bit of air from my belongings in order to pack up from a long weekend of fun.
From air mattresses to pool floats, river tubes, tires, and everything in between, a good quality air source is a must for outdoor fun. This is where this lightweight little cutie comes in handy!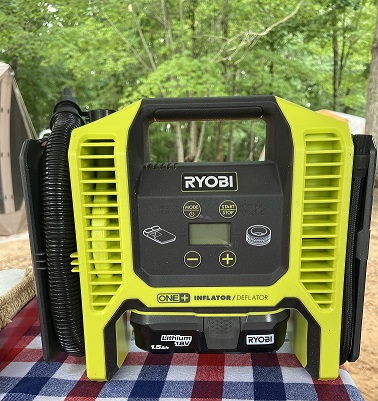 What can it do?
Weighing less than four pounds, this little powerhouse is capable of completing both high pressure and high volume jobs. According to the manufacturer, it can inflate a car tire from flat to full within four minutes, and can fill a twin sized air mattress in as little as 30 seconds! If you purchase the package, which includes both the battery and charger, you'll be able to interchange power capabilities with over 225 compatible Ryobi tools!
What's included?
This must-have item includes a high pressure hose and nozzle, Presta valve adapter, sports ball needle, pinch valve nozzle, and features auto-fill shutoff for hands-free inflation.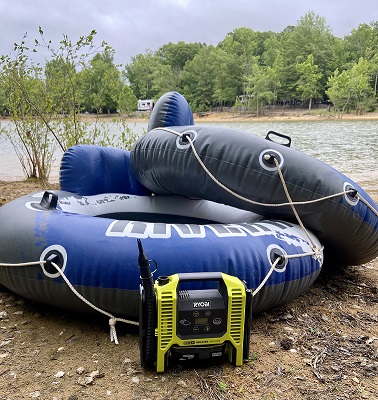 Is it easy to use?
Finally, the best quality of this inflator/deflator is its ease of use. While this Girl Camper may be slightly intimidated by power tools, I was able to use this without incident (or injury) – and that's a WIN in my book!
Written by: Teresa White Carver, Girl Camper Guide to Virginia
Follow the fun on Facebook https://www.facebook.com/groups/girl.camper.virginia
Join me on Instagram https://www.instagram.com/girlcamper_virginia
Subscribe to our award-winning magazine https://girlcamper.com/girlcamper-magazine
Check out events near you (and across the country) https://girlcamper.com/events