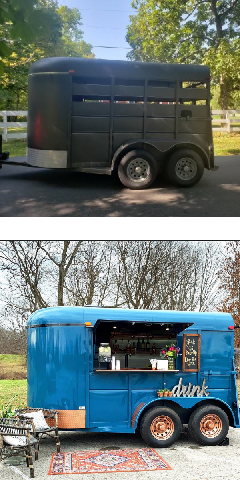 Thirsty?
How many of you enjoy a beverage around the campfire? I certainly do! Whether you prefer a spirit or spirit free beverage, the Kentucky Girl Camper has you covered. I reached out to Set The Bar Kentucky to help us develop our very own cocktail/mocktail creation. They came up with a combo that's sure to quench your thirst while taking in the embers and glow of the campfire.
Set The Bar
Set The Bar is a family owned small business out of Lexington, Kentucky. In 2018 they began to toss around the idea of a mobile bar in a renovated horse trailer. First came the trailer, then the renovation by Vintage Basecamp, and The Thirsty Mule was born. Considered "Kentucky's premier mobile beverage and event bartending service", they provide mobile bar packages, bartending services, and signature bar rentals. They handcraft all of their cocktails and have a signature syrup line, some available for shipping. When I decided we needed our very own cocktail /mocktail, they were the obvious choice.
No Bourbon???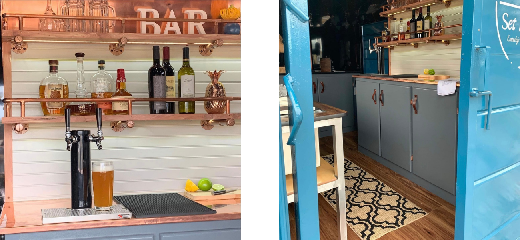 Now truth be told I am not a Bourbon fan. Hard to believe I'm from Kentucky, right? So taking this into consideration, I asked Chelsea, Set The Bar's cocktail curator, to devise something that wasn't bourbon based but that bourbon could definitely be substituted. Chelsea used Sailor Jerry's spiced rum, pineapple juice, Aztec chocolate bitters, lime, and their signature Red Berry syrup. She then made this cocktail camptastic by garnishing it with a toasted marshmallow! If rum isn't your thing, it goes great with bourbon, tequila, or even vodka! Perfectly adaptable just like a girl camper! Prefer your beverage spirit free? Just leave out the rum and add in some Topo Chico. Deeelicious! Try the Kentucky Girl Camper at home and tell us what you think!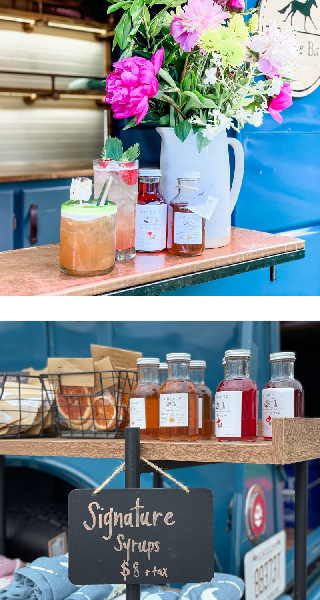 Mix It Up!
Kentucky Girl Camper Cocktail
In a shaker with ice combine;
½ ounce fresh lime juice
1 ½ ounce pineapple juice
1 ounce Set The Bar Red Berry syrup
1 ½ ounce Sailor Jerry spiced rum
2 dashes Aztec chocolate bitters
Shake well and pour over ice in rocks glass
Kentucky Girl Camper Mocktail
In a shaker with ice combine;
½ ounce fresh lime juice
1 ½ ounce pineapple juice
1 ounce Set The Bar Red Berry syrup
2 dashes Aztec chocolate bitters
Shake well and strain over ice in zombie glass. Top with Topo Chico