We will be kicking off the 2020 camping season with a BIG event in Texas – our very first, Girl Camper Camporee. I have always loved the idea of going to sleep away camp, just like Hayley Mills in the original Parent Trap movie. I love the whole idea of tents and cabins and canoes and a Mess Hall. Throw in some craft workshops, physical challenges, girlfriends and I can almost hear Reveille playing over the loud speakers now.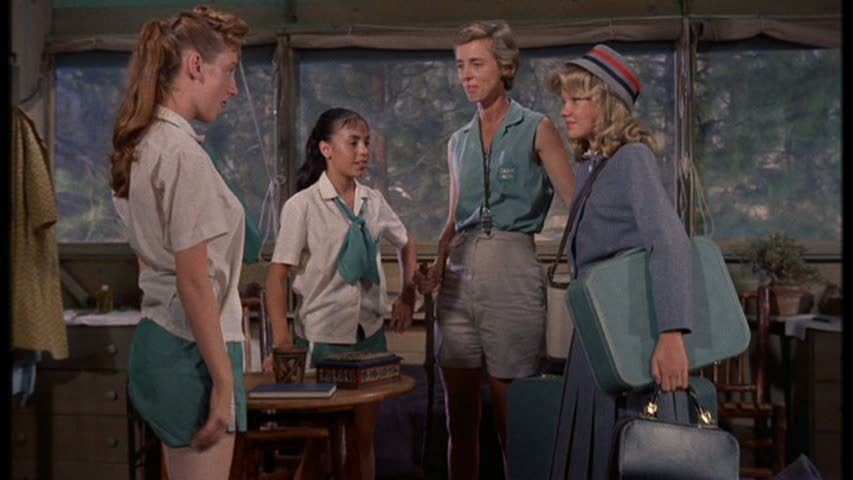 When the city of Waxahachie decided to take their Wonderful Women in Waxahachie event in a new direction, it seemed like an opportune time to scale the dream up and create what I have always wanted to create – a grown up sleep away camp on a lake with cabins and tents and workshops and really, really great food!! An opportunity to be outdoors, frolic by the water, learn to make things, challenge myself physically and be a girl again. I wanted a camp experience that mirrored those old sleep away camps of the 50's and 60's.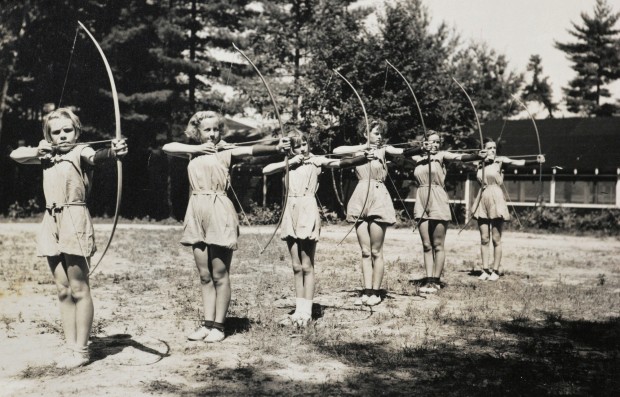 Here's what we are doing!
We will gather on Wednesday, April 22 at Big Chief RV Resort in Burnet, Texas. Be sure to take in all the beautiful blue bonnets in bloom on the way there! Spring in Texas Hill Country is the best! Big Chief is right smack on Lake Buchanan and we will have our fire pit right on the water for unbelievable sunsets. They offer full hook ups, a stunning pool and hot tub, a big covered pavilion for our meals and an extra gathering room if we need it.
Wednesday night is arrival time and Kate Dunbar, Girl Camper Food Editor and founder of The Campground Gourmet, will be serving a Gourmet Burger bar and cooking the burgers as you arrive. No set dinner time, we know how travel days go. When you are settled in, we'll feed you!!
Thursday April 23 – Camp starts! Rise and Shine and grab a coffee at the coffee bar and head off to your first workshop.
The morning workshop will be from 9-10:30. There will be a little break before Kate Dunbar does her Cast Iron Cooking demo at 11 AM. There will be plenty for tasting. Kate always goes big, she's from Texas!! The afternoon workshop begins at 3 pm and will run to about 4:30. Kate will be serving a Farm to Table dinner at 6 pm but please bring your own beverage and join us lakeside to show off your crafts and share a snack while we wait. Kate also welcomes anyone who wants to learn to join her at the Pavilion as she dishes up supper. Campfire tales and dessert follow.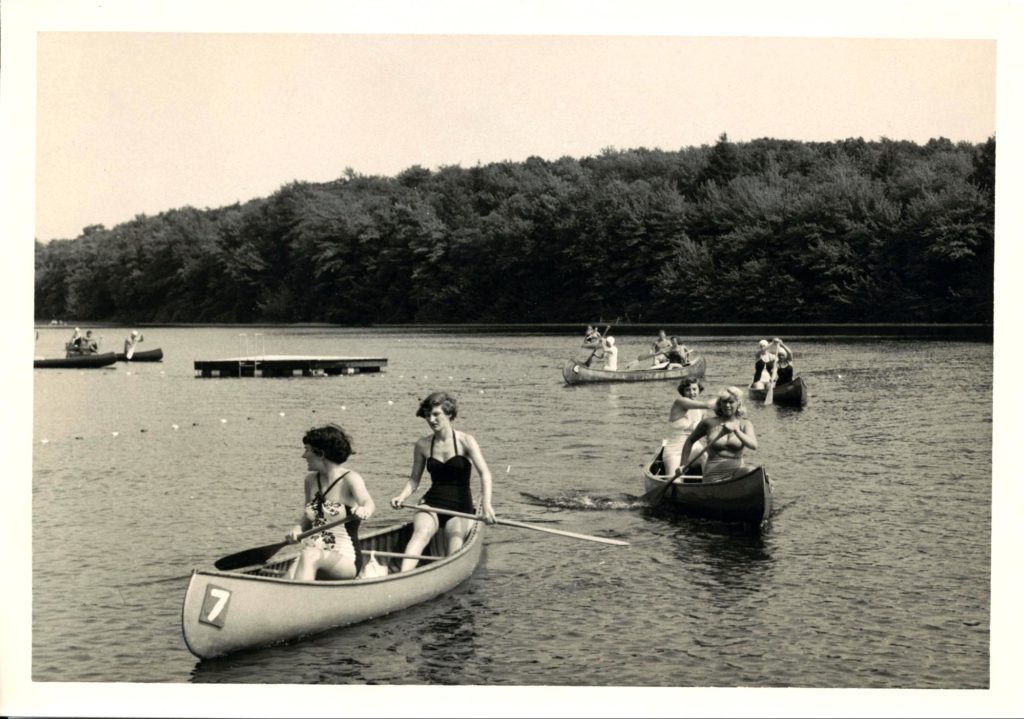 Friday, April 24. Rise and shine for coffee at the Pavilion again. Bring your breakfast with you if you'd like. Our workshop schedule is the same. 9-10:30 is the first one followed by Kate's Make Your Own Seasonings Workshop at 11:00. Lunch is on your own. Visit a friend at her camp site or bring your chair down to the water. We'll have extra tables there. In the afternoon, there's one last workshop as well as a RV Maintenance Workshhop led by PJ Beurger from Princess Craft RV before we head over and see what Kate has made for all of us for dinner. More campfire tales, s'mores and fellowship before bed.
Saturday, April 25. It's time to boot, scoot and boogie. A line dance instructor is coming over to teach us the moves. We won't be watching from the side lines at weddings anymore!! Cotton eyed Joe, Cha-Cha Slide, Cupid's Shuffle, The Electric Slide! Those inclined can learn them here! For those not dancing, workshops will be going on as well. On Saturday afternoon, in the spirit of camp sportsmanship, we will play a rousing game of Capture the Flag – Girl Camper Style. Join a team or be a cheerleader! It's sure to be fun! On Saturday evening we will all gather for our last dinner and some good natured awards will be given out!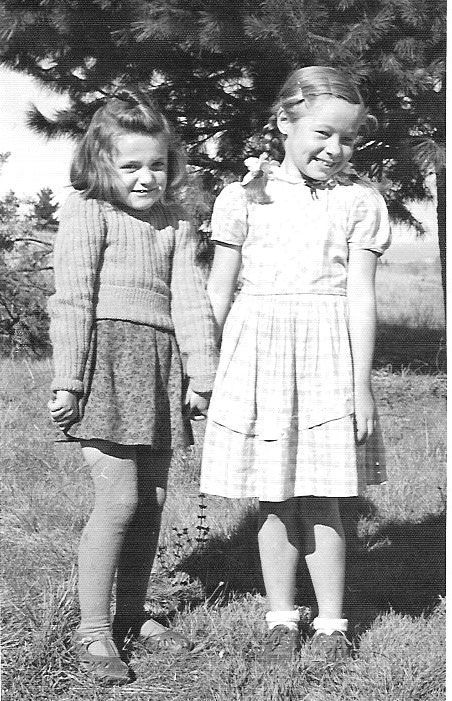 On Sunday morning, we will have to bid you farewell but you will leave with memories to last a life time.
The cost of the Camporee is $130 and includes all the evening meals, coffee and comfort stations, camp shirt and kerchief as well as one of our famous Girl Camper Swag Bags! Some workshops will have a small materials fee and you can choose which ones you want to take in the weeks before the Camporee when the teachers and classes are all confirmed. Book your own sites through Big Chief and tell them you are coming to the Camporee! Call Big Chief at 512- 793-4746.
Big Chief has a few cabins to rent as well as tent sites, boon docking spaces and RV's to rent through Princess Craft RV in Round Rock, Texas. If you are tenting or putting up an awning you must use wights instead of stakes in the ground. The water lines are very shallow at Big Chief and they take care to not have an accidental break!
Workshops
Camp Buckets with Bonnie – A girl has to get her stuff from campsite to campsite and to the Mess Hall and Bonnie does that in style with her galvanized bucket dressed up to carry your dishes, silverware, flashlight and beverages. You can decorate it to use as a trash can, slop bucket or shower caddy. $20 materials cost includes the bucket. Bring your own bucket and pay $5.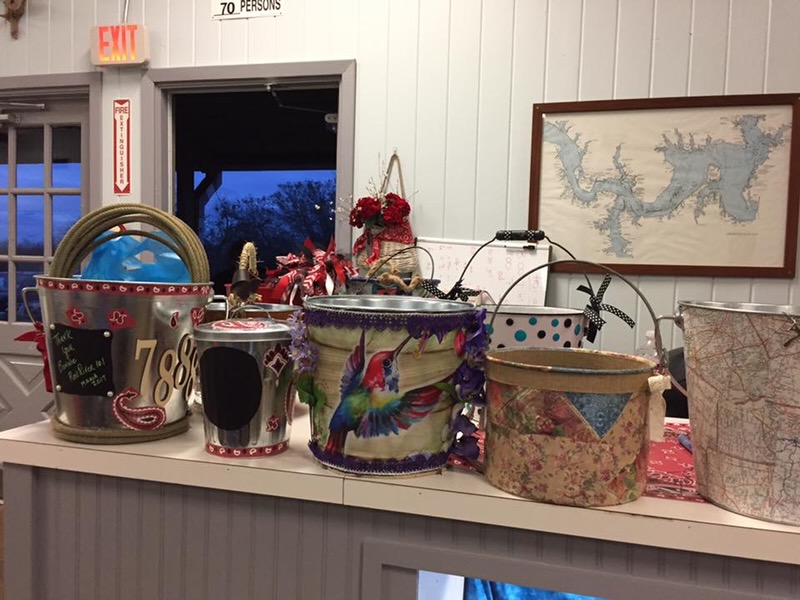 Bees Wax Food Wraps with Janine – No more plastic!! Breaking the plastic habit is hard but one of the ways you can cut down is with these beeswax covered fabric squares that take the place of plastic wrap. They are pretty and practical and earth friendly! $10 materials cost.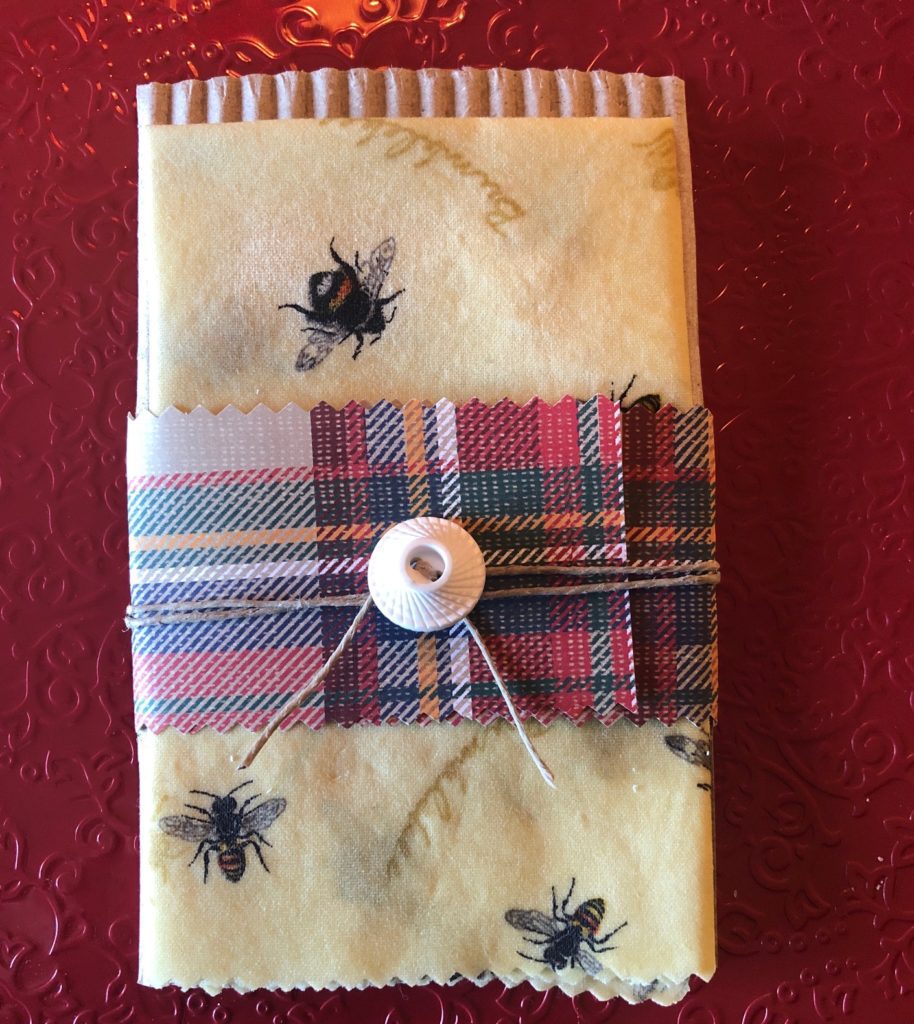 Line Dancing with local teacher – We will be learning all the dances that they always do at weddings that we never catch on to until the last verse. Get ready for your next wedding by learning all the moves ahead of time! No fee.
Essential Oils with Lorri Weisen – Lorri is our Health and Wellness Expert and she knows A LOT about how to use essential oils. She will offer a tutorial on Essential Oils for camping and everyone will mix a few recipes and take them home with them. $10 materials fee.
Water color Journaling with Janine – I have kept a water color journal for years and its a great way to relax and record some of your favorite places. Watercolor is portable and easy and with a few quick tips you can be keeping a travelogue that you will love looking back on. $10 materials fee.
Decoupage clip board with Bonnie – A clip board at the campsite is a great thing! If you hang it outside your trailer you can leave a note on it. "Gone fishing!" "Napping! Do not disturb!" "Be back at 5!" Bonnie used her Grandmothers old jewelry and some pretty paper to make a board that does a Girl Camper campsite justice. $10 materials fee.

Kate's Seasonings Workshop – Kate will teach a workshop on what spices go with what recipes. She will have all of the ingredients and you will be able to make up your own recipes based on your favorite flavors. She'll have mini Mason jars and labels so you can create your own special blend and take it home with you. $10 materials fee.
Kate's Cast Iron Demo – Kate will walk us through the hows and whys of Dutch Oven Cooking. She will demonstrate while explaining the cooking system and offering tips and tricks for becoming a great cast iron cook. Temperature control, pan maintenance and clean up are just a few of the subjects covered. No fee here! Come and grab a seat.
Other Fun Stuff – We will also have a few kayaks and my own little Scout inflatable boat available for those who might want to try out a water activity. Badmitton, and lawn croquet will be set up all the time for anyone to try. So as much or as little as you want!!
Questions
If I don't have a camper, can I still come? Yes!! We hope you do! You can rent an RV through our friends at Princess Craft in Round Rock, Texas or through RV Share. You can rent a cabin at Big Chief but hurry because there are only a few. You can tent camp or car camp. You can also grab a few friends and do a Air B and B and drive to the campground for the fun.
Can I share a site? Yes, the owners of Big Chief will allow you to share a site if you have a small unit and will fit. You will still pay the full fee because you will be using all of the electric and RV Resort facilities that you would use if you were on a site alone. Find a friend and snuggle in.
Can I teach a workshop? We'd love it if you have a special skill to share. Drop us a note and tell us what you want to teach and what the materials costs are. Our teachers are volunteers but we'd be happy to cover your supplies.
What about food? Everyone is on their own for breakfast and lunch but we will offer a coffee station at the Pavilion and all day we will have a Comfort Station as well where you can grab a piece of fruit and fill up your water bottle without having to walk back to your campsite. Kate Dunbar will be dishing up a great farm to table dinner each night with the freshest ingredients available. Just bring your plate, utensils and favorite beverage. We will dine at the Pavilion/Mess Hall each night.
What else comes with my ticket? Glad you asked. We are already at work making our Swag bags and that is always a little like Christmas in April. We will also be including a Camp Shirt and kerchief, name tag and other surprises.H
Is my ticket refundable? It is transferable if you had an unforeseen emergency. We never want to see anyone lost their money if something happens and they can't make it. We usually have a wait list and will do all we can to facilitate a peaceful transfer of tickets!!
How do I register? You can register by clicking this link to Eventbrite and then call Big Chief to reserve your site. Do not use the online reservations system at Big Chief. Call and tell them you're signing up for the Camporee!!
(512) 793-4746
Call the campground and make sure you get a site you are happy with before purchasing your ticket.
Even though the Big Chief website says No Tents, they are making an exception for us and allowing them for this event.