There are things I do to try to avoid chaos & catastrophe along my road trips, but the truth is you can't be prepared for everything. My advice is to be as prepared as you can, but then quit worrying about all the what-ifs? If we let all that 'anticipatory' fear stop us from doing things, we'd never go explore our wild & beautiful country.
There aren't as many photos in this article, because the number one advice I want to give you regarding safety is: Listen to your gut! (and that would be a really weird & gross photo😉) Intuition is a fantastic gift women have. I solo travel 95% of the time & boondock on public lands, & the 'safety' question is the one I get the most.
Whether its hiking on a trail or camping in the forest, if the voices in your head are yelling at you that something is wrong; change your plan. As you travel more & more, you'll learn the difference between being 'uncomfortable' with a new experience or full blown "I need a Plan B now!" I do think it's important to try new things & go beyond that "uncomfortable" state…it's how we grow & get more brave to try new experiences. But when it's serious, do something different. Even if you don't see a direct threat, turn around; drive away; shout & sing & get back to where you feel safe. You don't have to explain this to anyone. Don't beat yourself up if you do backtrack. You're on a trip to have fun, enjoy life & see new things.
One of the safest things about car camping is, you can climb from the back to the front if you need to. You're locked in your vehicle at night & can drive away if needed without ever going outside. So, be aware of how you park your vehicle when camping. Try to park so you can't be blocked in if you need to leave in the night.
The rest is easy. Have your vehicle maintained regularly. I also have a checklist I go through before I leave on any road trip…check your oil, washer fluid, all my outside lights, my spare tire, etc.
I have AAA roadside assistance with the 100-mile tow package. I carry some basic tools: tow strap, WD40, rubber mallet, Ryobi tire inflator/deflator & charger, NOCC is a portable battery charger & a small tool box with pliers, a wrench, bungee cords, screw drivers, etc. All these I store together in the floor behind the passenger seat.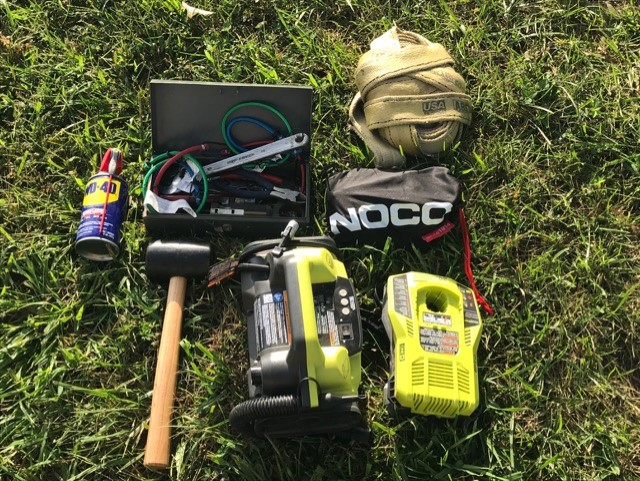 On top of the tools is my bright orange "emergency' bag. It has more bug dope, extra matches, batteries, rope, waterproof bag, zip ties, duct tape, doggie bags, dental floss, rubber bands, heavy duty Velcro & Tenacious tape. Because my 4Runner is lifted, I have a set of wood blocks that go under my jack. Lastly – my red first aid kit: Tylenol, band aids, ace bandage, stomach & diarrhea meds, Nu-skin for blisters, Neosporin & a few old pain pills.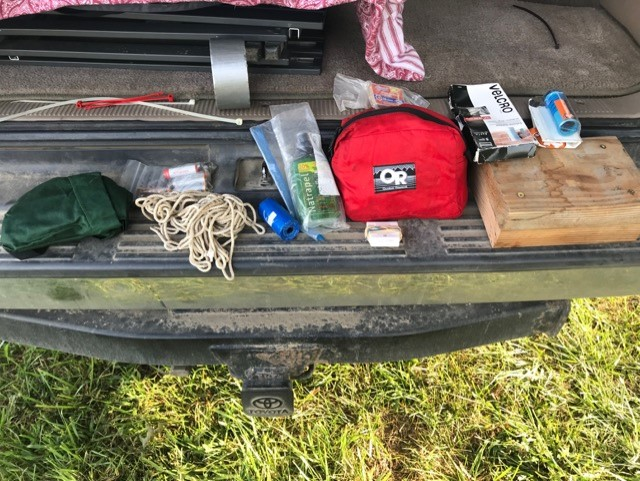 In my first article "Getting Started", I showed you my new cushy pillow. Besides holding my Rumpl blanket, it also holds a box. The box contains my Kindle & a book light (because I once cracked a Kindle by leaning on it with my elbow). I wanted someplace to keep the Kindle safe & easy to access at night, but also in the box is my passport along with some cash. Once the box is stuffed into the pillow, no one looking in would be able to tell the pillow contains anything.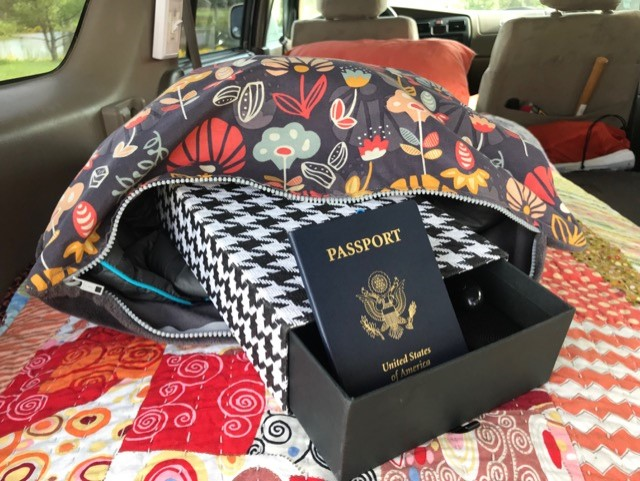 I also hide a credit card & some cash inside my car. In the glove box is a copy of both my drivers license & passport. If my bag were to get lost or stolen, I'd still have money, a credit card & ID. I also have a spare car key hidden underneath my car in a magnetic box.
If you travel like I do, you'll find yourself out on dirt roads & trailheads with no cell service & no AAA. I have a Personal Locator Beacon (PLB) which is a Garmin in Reach. There are several options for a PLB. They all are a little bit different & each have different plans & price points. I have the $15 Basic plan, which lets me turn it off & on as I need it; gives me 10 free live texts; unlimited pre-written messages; & the emergency red notification button to send rescue (I seriously hope I never, ever need this one!). I use it a lot to let my husband know where I am when I don't have cell service. Along with the pre-written messages, it sends my GPS coordinates.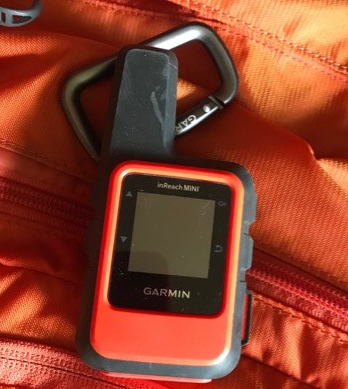 If you're wondering if I carry a firearm, big knife, wasp spray or any other type of 'weapon', I don't. You have to decide what's right for you, but none of those items work for me.
Use common sense, listen to your intuition & do what you can to prepare for the unexpected, but then just go! Get out, have fun, & pack those worries away.