I like to keep things simple and easy with my SUV camp setup and food.
Once at camp I open up my back hatch to access my kitchen, take out my camp chair, table and am ready to relax.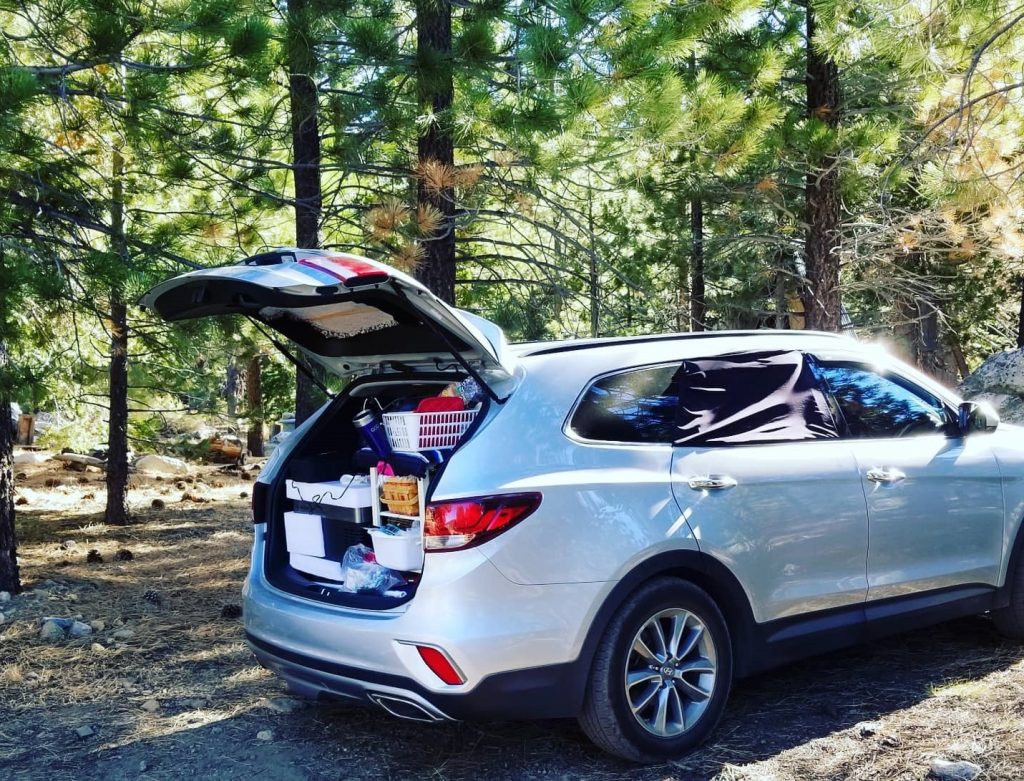 My favorite cooking gadget is my Hot Logic Mini 12 volt. I just put in a meal, plug it in while I drive and have hot food ready to eat when arriving at camp.
It is my portable travel microwave and love it!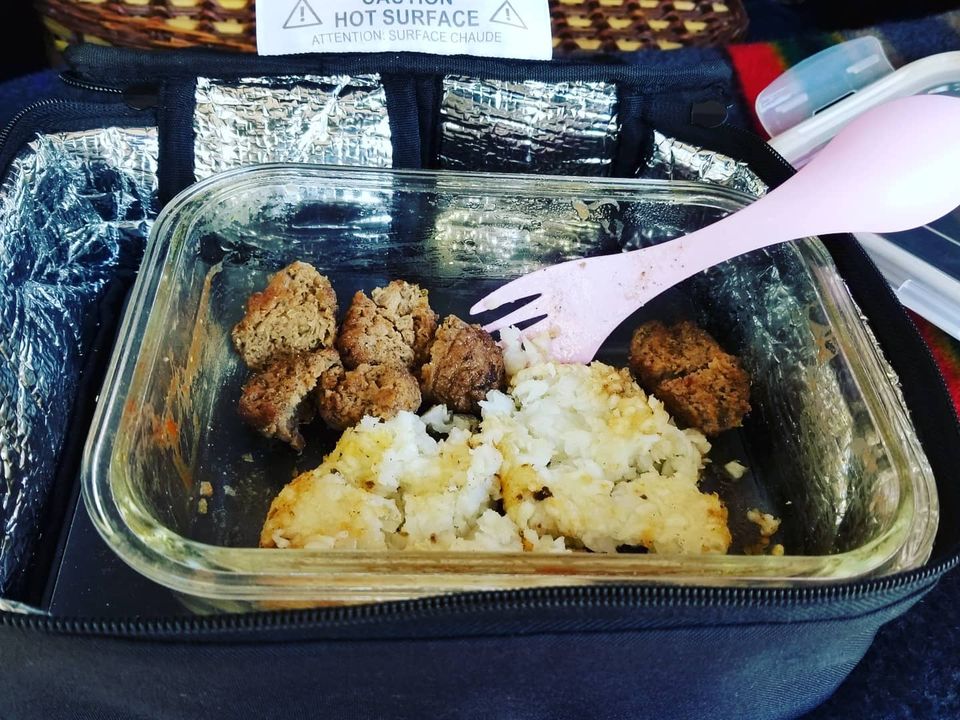 Learn more about the Hot Logic Mini here: https://amzn.to/3oWPqsW
What type of SUV do you have?
I camp in a 2017 Hyundai Santa Fe and removed the third-row seats for more room in the back.
How do you describe your "camp style"?
My camp style would be easy, comfortable, pretty, a little shabby chic with lots of pillows.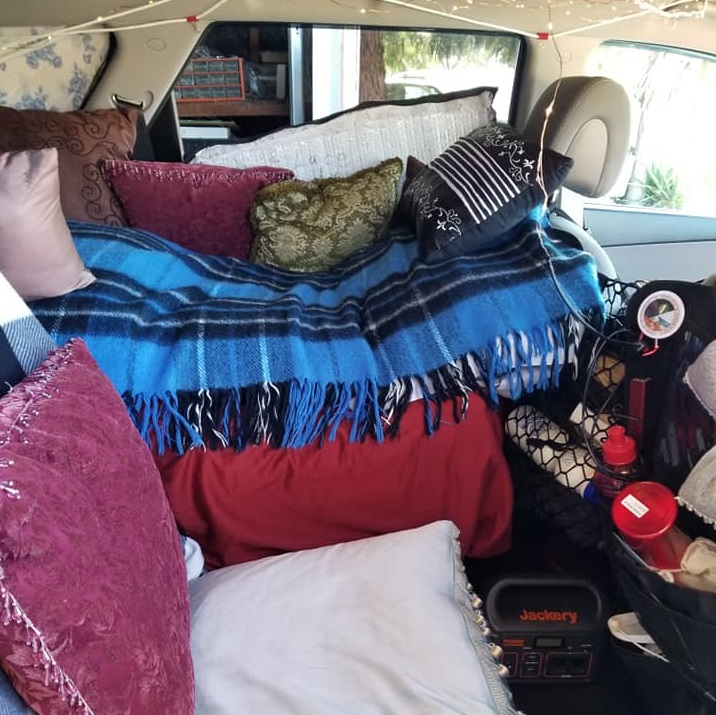 What concept or elements influence your style?
When decorating my vehicle I took items from my house to make it my little rolling apartment. I repurposed two white shelves to lighten up the small space and give me storage. Added some battery operated candles and a little fireplace for soothing ambiance. For window covers I used a french country blue toile bed sheet. Wicker baskets to hold kitchen gear and food.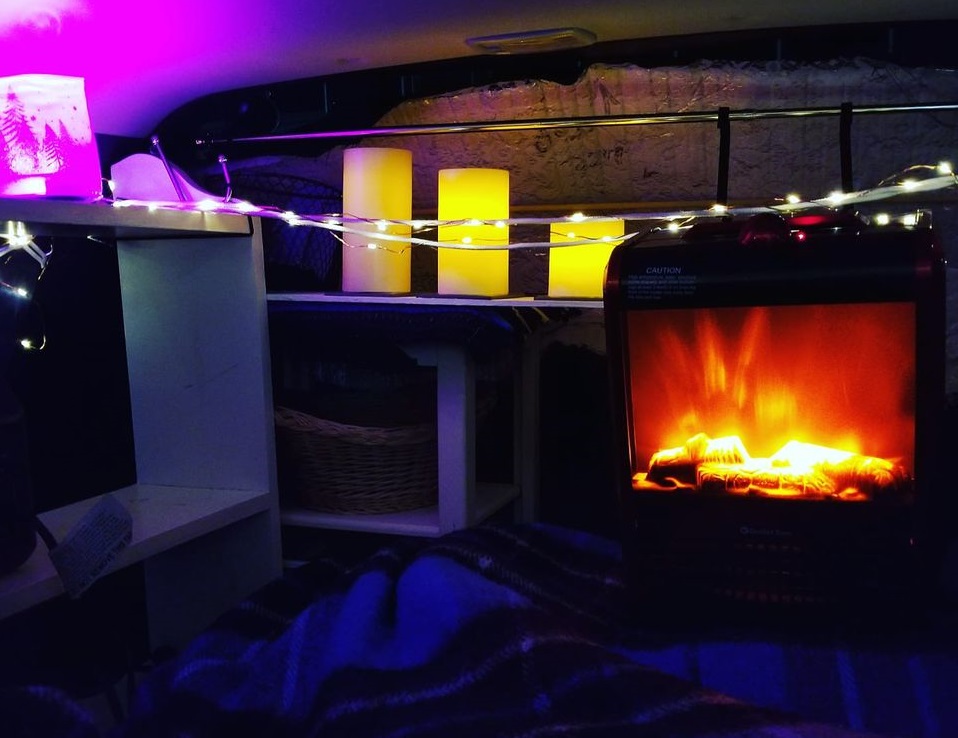 My Jackery is only a 300 so I can't run the heat, but just for the flame effect is 6 watts.
My fireplace: https://amzn.to/2N0JTEr
You can purchase a Jackery battery unit in several different wattage options, depending on your needs and budget: https://amzn.to/3f29hDS
Have you made any style mistakes, and if so, what did you learn?
When making curtains for my windows, I used lace curtains on three of them. While the white opens up the space they do not hold up too well with regular use with just 3M spray adhesive on reflectix. I'll redo them later and use regular fabric or a bedsheet. It is okay to move things around in the space and see what really works, change is inevitable, don't be scared of that.
What advice or encouragement can you offer Girl Campers who are developing their camp style?
When creating your camp style just have fun and don't be afraid to try things out. Maybe start with items from your home or have an exciting shopping trip for a certain new style you want to try out. There are many different groups on Facebook to get ideas and inspiration from.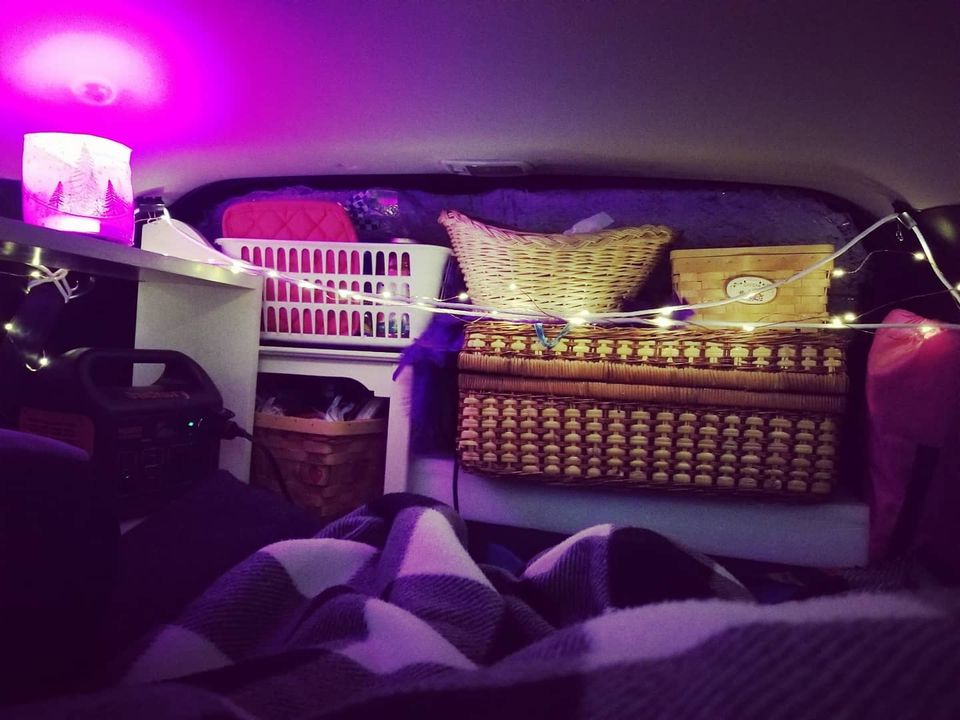 Many thanks to Tina Ashton for sharing her SUV Camp Style with us!
Save your seat at the Girl Camper Virtual Expo in March! https://girlcamper.com/expo/