If you're anything like me, a great cup of coffee really helps to get the day going. And, like almost everything else, coffee just tastes better when made in the great outdoors!
While there are numerous ways to brew your java, Joe, bean juice – whatever you love to call it, I find that this handy little set makes a great cup when you're short on time (and space).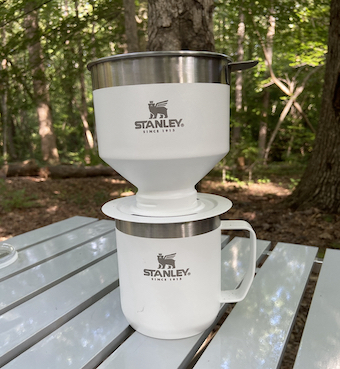 Weighing in at only 32 ounces, the Stanley "Classic Perfect-Brew Pour Over Set" is made of 18/8 stainless steel, is BPA-free, sustainable, dishwasher safe, and comes in three perfect colors (Polar, Matte Black and their classic Hammertone Green).
The pour over set is easy to use! If you can boil water and pour it into the top-sitting filter, you're on your way to a great cup of coffee!
Happy Brewing!
Teresa Carver – Girl Camper Guide to Virginia
Follow the fun on Facebook at https://www.facebook.com/groups/girl.camper.virginia
Follow us on Instagram at https://www.instagram.com/girlcamper_virginia
For information about events all across the country, check out https://girlcamper.com/events
To subscribe to our award-winning magazine, go to https://wwwgirlcamper.com/girlcamper-magazine