It's fun to document your travels, and it can be a useful reference in the future. I record mileage, the place I stayed, the site number of the spot I camped in, modifications to my trailer or tow vehicle, and general notes about my trips and camping goals.
There are cute camping journals available, but I like to make my own with a blank sketch book and photos printed from the Polaroid Snap Touch. You can use this Polaroid camera to take photos and print them immediately or in future, and you can also use it for printing photos from your cell phone. I've been a Polaroid fan forever; I still have my original camera from the 70's and it still works! Supporting Polaroid is a way I can vote with my dollars to keep this long-standing company in business. And it's a great tool to take on your camping trips to document your adventures.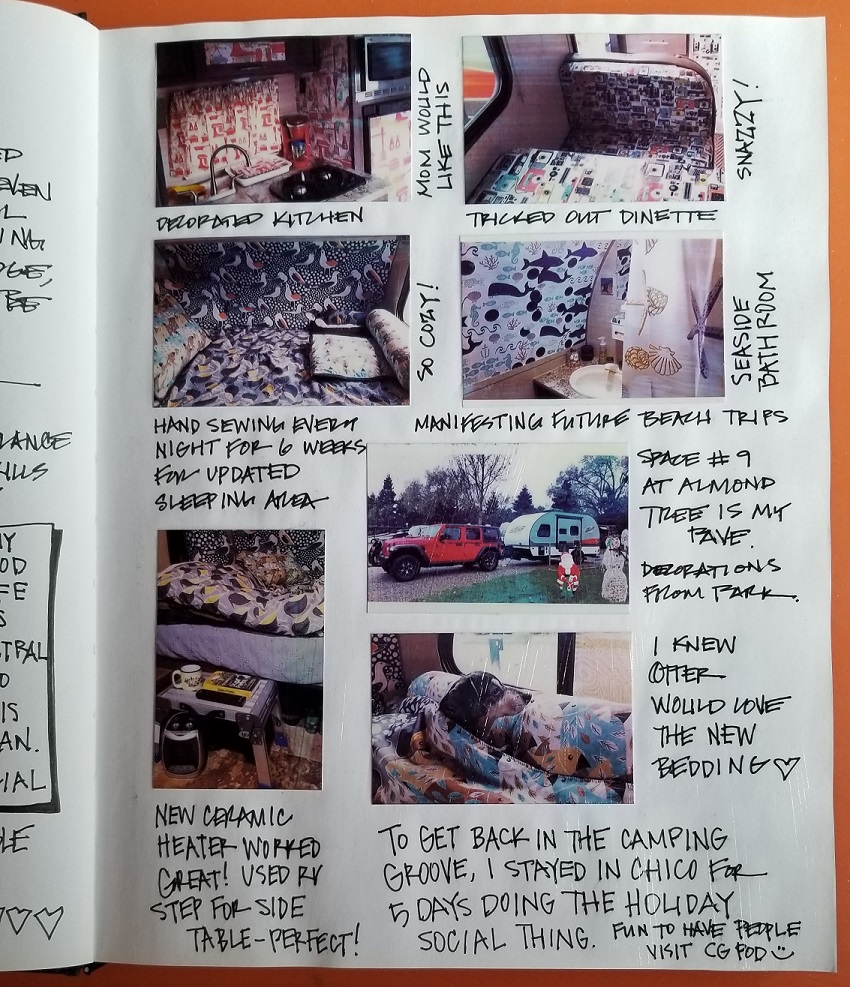 The photos print out on 2" x 3" paper, which is a perfect size for your journal. The ink is in the paper, so you never have to buy ink cartridges. More good news, there aren't any batteries – you charge the camera using the USB port on your laptop or solar charger. This is a fun camera, as you can set it to print automatically, or print multiple images of your choosing. The app for your phone is easy to use and understand. It's fantastic to have this little printer for your journal and easy to get your photos out of your phone and on the page!
I have so much fun with this camera! Here's my direct link: https://amzn.to/3aOVGvR
You can use a glue stick or anything you want to paste the photos in your journal. I Modge Podge them on the page, and then Modge Podge the whole page after adding my notes because I like the look of that, and the photos won't pull off the page in the future.
Wait! You don't want to deal with glue sticks or Modge Podge? How cool is this? The Polaroid Mint camera prints on sticky back paper: https://amzn.to/2yes7Xj
The self-adhesive option is great for attaching to magnets. Alternatively, you can purchase adhesive magnets for either type of film. There are many accessories available for both cameras.
There's another fun reason to have one of these Polaroid cameras in your bag. When there are gatherings at the campground, or when I meet special people, I take a Polaroid of them as a gift. People love it. Many people don't know Polaroid is still in business or haven't ever seen a Polaroid. I encourage them to use the photos as bookmarks or put them on their refrigerators.
I encourage you to purchase a case for your camera so it's easy to toss in your bag without worry. I purchase 10 packs of film. Have fun journaling your camping adventures and I hope you have as much fun with your Polaroid Snap Touch as I do with mine.
Article written by: Catherine Goggia
To see the complete list of my articles, click here: https://girlcamper.com/northern-california/articles/
Do you travel often or tend to take long trips? Let RV Trip Wizard be your trip-planning copilot, telling you where the campgrounds and RV parks are that will accommodate your RV, trailer, or tent – plus get a free RV Life GPS account: https://www.rvtripwizard.com/#5ff359c12459b
My awesome pocket camera with 25x zoom and good video: Canon Powershot
My laptop for working on the road: Light and Powerful Laptop
Follow the Girl Camper Northern California page: Girl Camper Northern California
Subscribe to Girl Camper Magazine here! Award Winning Design
Check out upcoming Girl Camper Events – you can attend events in any chapter! https://girlcamper.com/events/
Tag along on Instagram: