Lighten Your Load with These Kitchen Essentials
When packing your RV, four criteria for consideration include: 1) Do I need it? 2) How much does it weigh? 3) How much space does it take up? 4) Can I use it for more than one function?
I am a fan of collapsible, BPA free, kitchen gear. The collapsible colander and dish drying rack from VREMI meet my criteria. These products are sturdy, light, and have good grip function.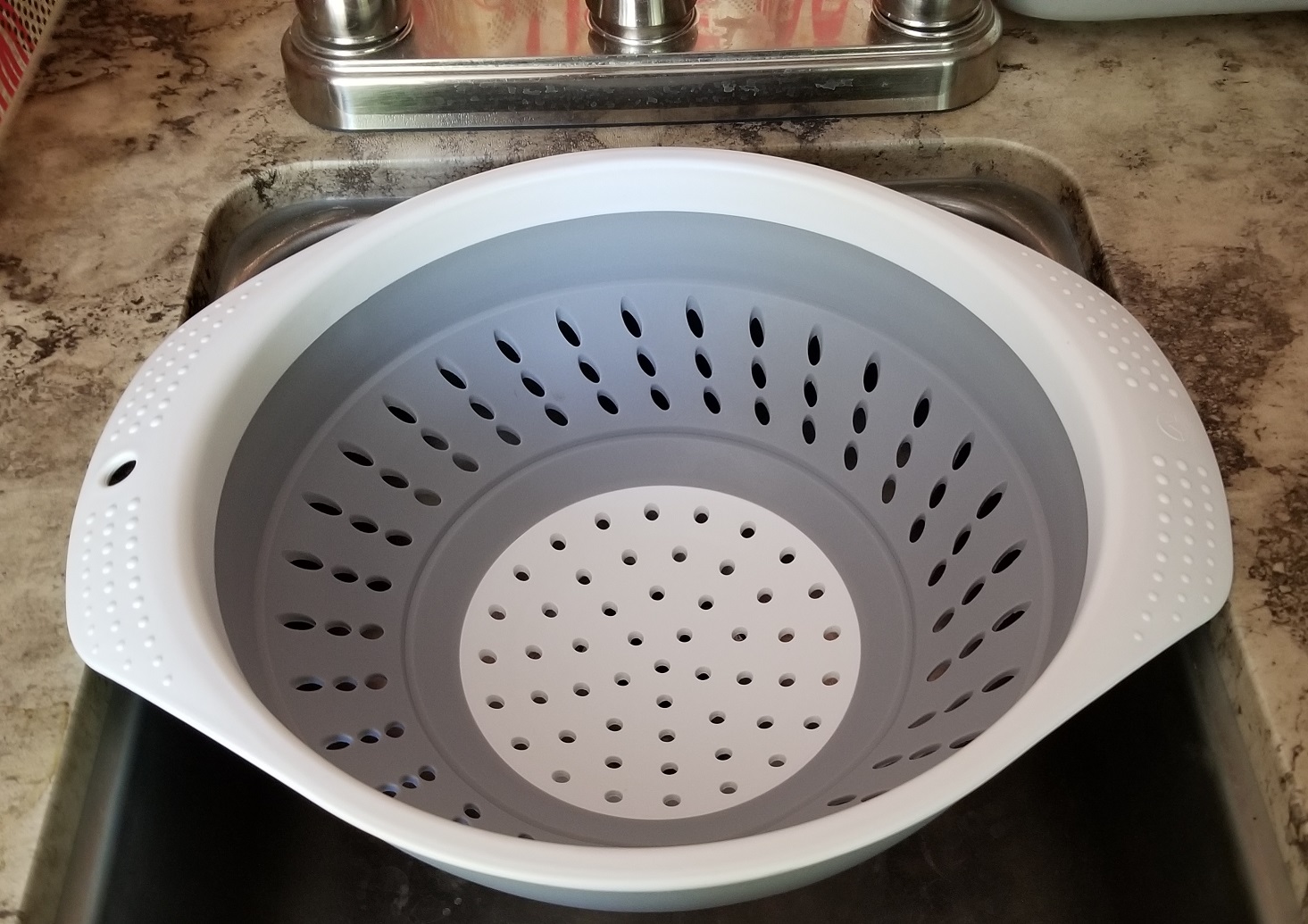 Fully extended, the colander reveals detailed consideration for both function and design. The handles are textured for easy grip, and you can see the hole in left handle, should you want to hang it. The grey and white give it a nice look (I can't help it, I care about these simple details that make me happy when I'm cooking).
My direct link for this colander: https://amzn.to/2GeqIEo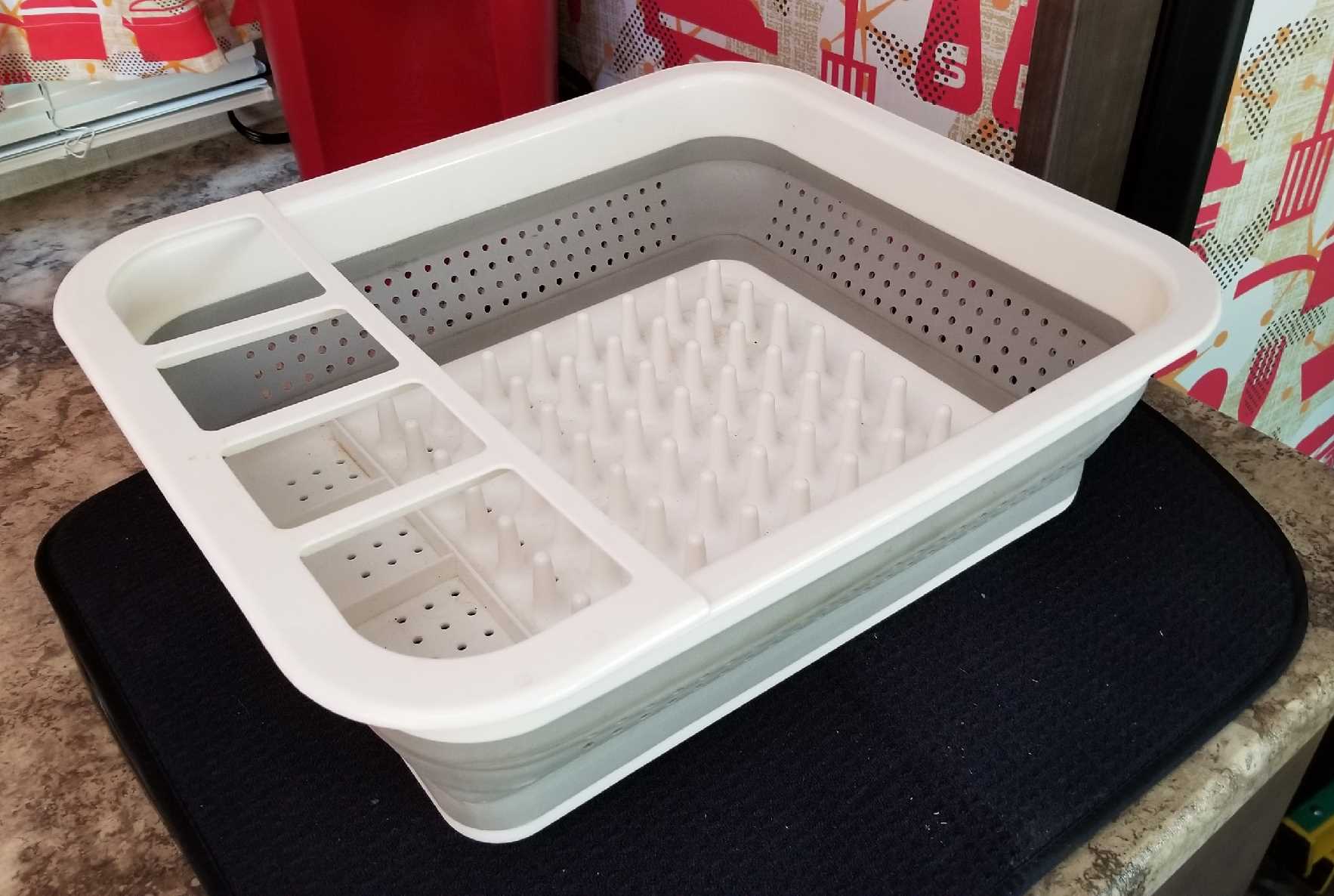 I didn't think I really needed a dish-drying rack, and now I'm so glad I got it. It IS a lot better than just setting everything on a dish towel to dry. Here, you see I put a drying pad under it.
Yes, I like fact the grey and white design matches the colander! It's small enough to be perfect for my RV, and large enough to be functional for anything I use for meal prep and enjoyment.
I bought the grey and white to match the colander, but I must admit, I like this red and white one a lot: https://amzn.to/35NhrM2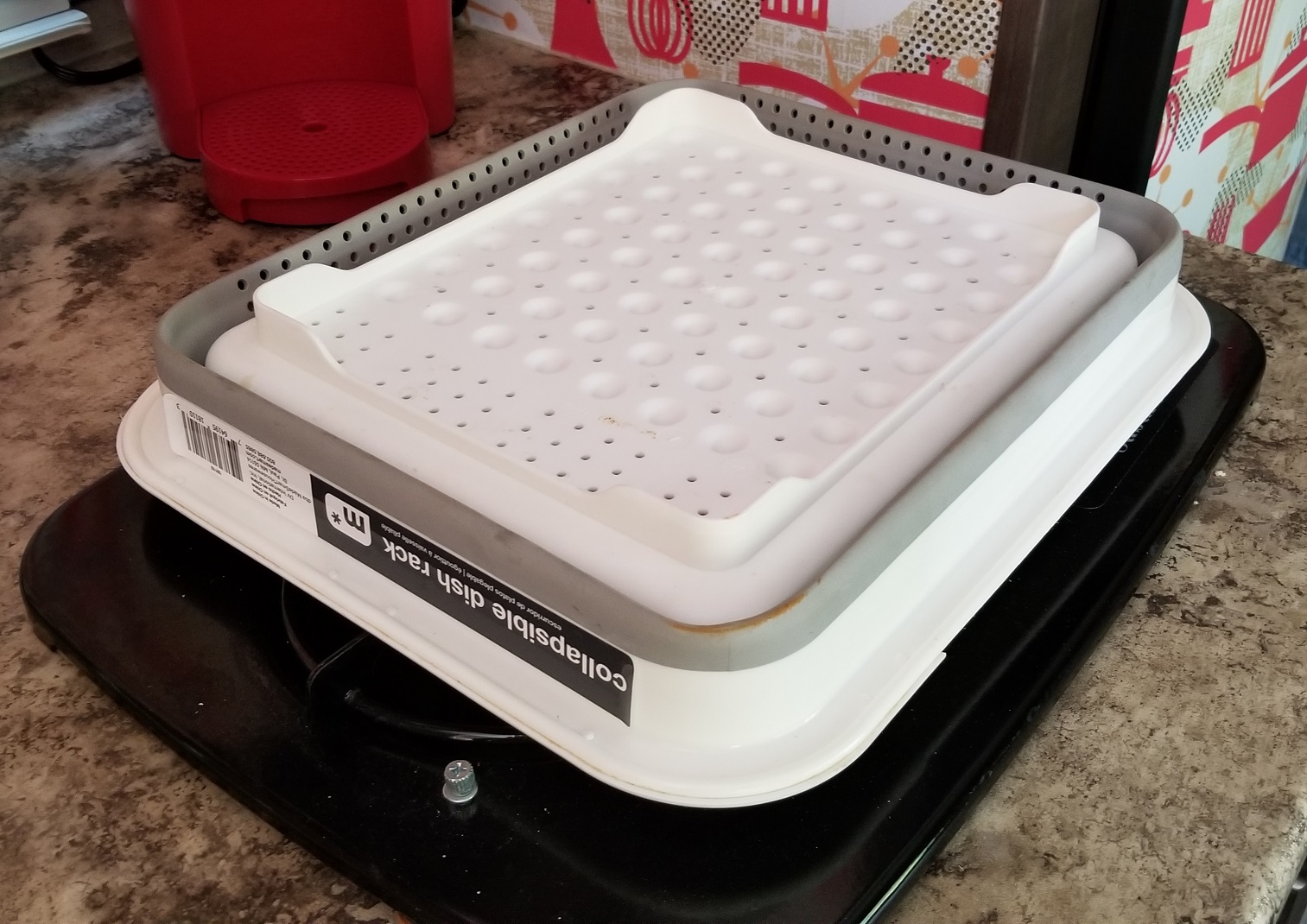 Lucky unplanned benefit: when collapsed, the drying rack turned upside down fits over the burners on my stove, providing additional "counter" space during meal preparation.
I like the white because it is easy to see anything that needs to be cleaned off.
Update: I recently discovered I could also get a collapsible bucket, which I want for my bookdocking set-up: https://amzn.to/3eadhBY
I consciously make buying decisions with the idea I am voting with my dollars. Vremi is based in New York. They are proud of their design team. And most of all, they bring fun into their product line. This colander is named the, "Knock Out" collapsible Colander. Their boxes with product name are so catchy, keeping the boxes for artistic expressions is part of their customer engagement model. I love this aspect of their business!

Crazy synchronicity: in my first MY PICKS article, I shared my love of all things Polaroid. On Vremi's home page, what do they highlight? Their employees, by way of Polaroid photos on a refrigerator! I was delighted when I saw this and it heightened my appreciation of this brand. I started out to buy a colander, and then discovered a brand with a culture that speaks to me on several levels. Coincidence? Never.
Article written by: Catherine Goggia
To see the complete list of my articles, click here: https://girlcamper.com/northern-california/articles/
Do you travel often or tend to take long trips? Let RV Trip Wizard be your trip-planning copilot, telling you where the campgrounds and RV parks are that will accommodate your RV, trailer, or tent – plus get a free RV Life GPS account: https://www.rvtripwizard.com/#5ff359c12459b
My awesome pocket camera with 25x zoom and good video: Canon Powershot
My laptop for working on the road: Light and Powerful Laptop
Follow the Girl Camper Northern California page: Girl Camper Northern California
Subscribe to Girl Camper Magazine here! Award Winning Design
Check out upcoming Girl Camper Events – you can attend events in any chapter! https://girlcamper.com/events/