Whether I'm sleeping in my tent or my camper, being out in nature is my main objective when camping. The saying goes,"There is no such thing as bad weather, only bad clothing." Bad clothing can make the difference between an enjoyable outdoor experience and a bad one, especially during cold weather. I don't spend weeks at a time out in the wilderness, so this is more of a hiking around a state park or hanging around a campfire when the weather is 40 degrees or below.
Packing without overpacking is a challenge especially when cold weather is expected. Think layers. Let's start from the inside out:
Pack for Efficiency and Warmth
Start with 3 short sleeve t-shirts or tanks, 3 long sleeve t-shirts or thermal tops, next a flannel shirt and finally a heavy wool sweater. I'm a sucker for heavy, wool, fair isle sweaters. Since I have 2 bottom t-shirt layers on I will only bring 1 flannel shirt and 1 sweater. Finally I bring both a down vest and a down jacket.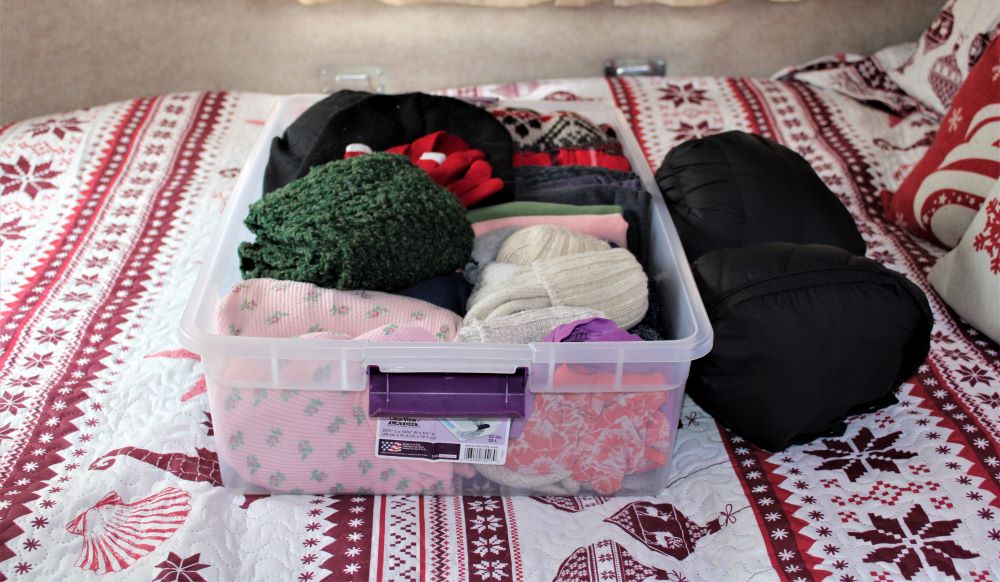 Bottoms are 3 pairs underwear, 1 sweatpants, 1 leggings and 1 pair of insulated overalls or snow pants overalls. (the kind you wore when you were a kid). I will wear these items multiple times on the same camping trip
Keep Your Feet Warm With the Right Socks and Shoes
Good socks make all the difference in the world. Wool or wool blend socks are expensive but are warm and will last a long time. I have a pair from Lands End that I have been wearing for 25 years. I have 5 pairs packed here' Next is a pair of winter hiking boots. My favorites are Merrell Hiking boots. They are seriously non-slip on ice and keep my feet warm and dry.
Don't forget the hat, gloves and scarf. I also added a set of thermal underwear to sleep in. Except for the coat and vest, 3 + days worth of clothing fits into a plastic container that fits under my camper bed or neatly in my tent. I could throw in extra underwear and socks and get a week out of this amount of clothing. Some of the items I may wear to the campsite providing even more room in the container.
Add and Remove Layers for Comfort
Once you are out in the cold remove and add layers as needed. Don't allow yourself to get overheated and sweaty. At 40 degrees I will often end up in the long sleeve shirt, overalls scarf and a hat. If I'm really active it may be the short sleeves and overalls.
Winter is a quiet beautiful time to camp. Packing for the weather is key to enjoying winter camping.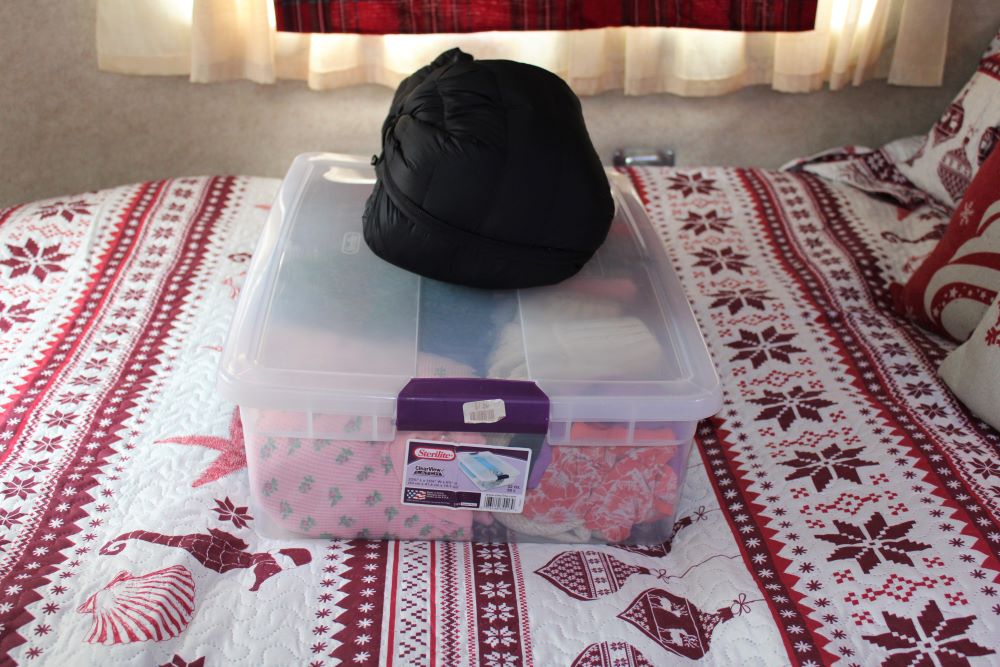 Holly Johnson |Girl Camper Guide Delmarva
Connect with Holly & her Girl Camper Group
Delmarva Girl Camper Facebook Group a private, supportive and fun community!
Instagram Delmarva Girl Camper (#girlcamperdelmarva)
Be sure to check out upcoming Girl Camper Events Email me at [email protected] for any questions