Colonial Woods Family Camping Resort in Bucks County is in the Upper Black Eddy region of Pennsylvania. Camping In Bucks County, PA, taking advantage of the region's natural beauty and recreational opportunities. Colonial Woods Camping Resort was established in 1978 by The Haubert family. The resort provides a tranquil escape from the hustle and bustle of city life, offering visitors a chance to immerse themselves in the great outdoors. Colonial Woods Family Camping Resort quickly became a popular camping, hiking, and fishing destination. When you pull in through the gates, you feel a sense of comfort and excitement. Throughout our stay, our family was busy with all the offered activities. You will enjoy every moment, from mini golf to organized activities and nature walks. Colonial Woods Camping Resort celebrates its historical roots and provides modern amenities and a wide range of recreational activities in Bucks County, PA.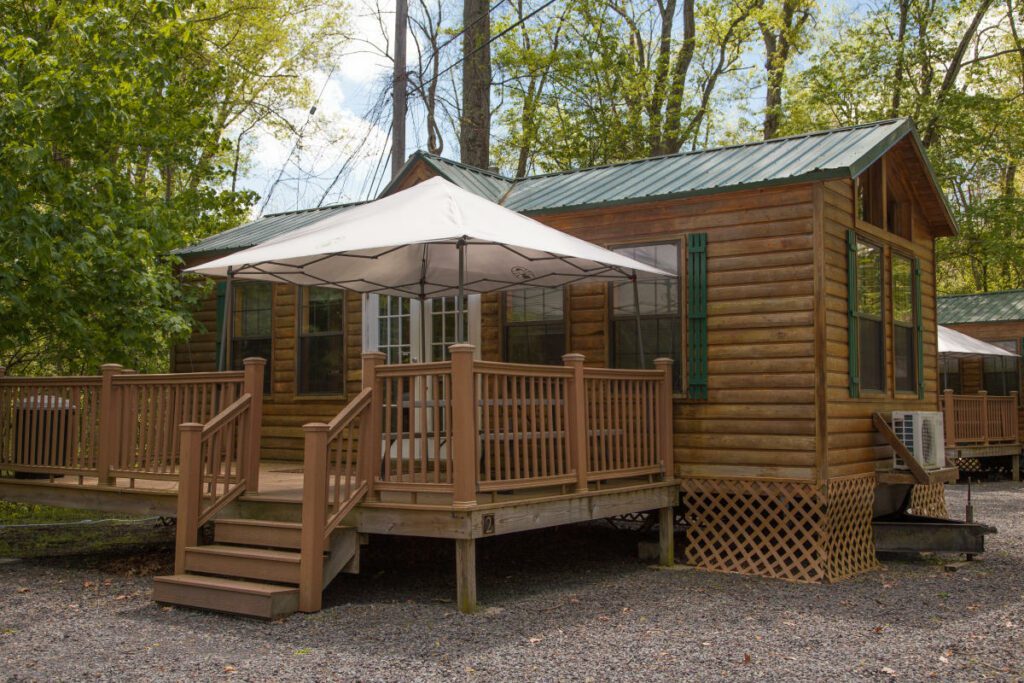 Facilities
Colonial Woods Family Camping Resort features well-maintained camping facilities, including 110 tent and spacious RV sites, 140 seasonal sites, and eight cozy cabins for those seeking a stay with all the comforts of home. Also offered off-site is Treasure Island, a unique camping experience on a private island in the middle of the Delaware River, offering an off-the-grid experience. Visitors can enjoy kayaking, tubing, and canoeing or explore the scenic hiking trails that wind through the surrounding woodlands.
Camping check-in time is 3:00 p.m., and check-out is noon. Early check-ins will incur a half-day fee. The office must approve extended check-outs and may carry additional fees.
Additionally, pets are welcome and not permitted in rental units. You are responsible for keeping your pets on a leash and following campground rules for public buildings or facilities.
Camping reservation requests are accepted online and by phone. Please note that sending in a reservation confirms a reservation once a follow-up is confirmed. Please see the website for fees and availability.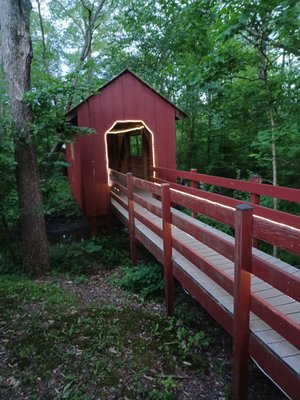 Amenities
Spacious sites
Clean restrooms
Convenient Laundry Room
Well Stocked Store
Rec/Hall/Pavillion
Mini Golf
Basketball
Volley Ball
Tennis courts
Game Room
And So Much More!
A bit about the community
Colonial Woods Family Camping Resort has become integral to the local community in Bucks County, PA, fostering a sense of togetherness and camaraderie. The resort hosts regular events and gatherings, offering weekend activities, fundraisers, and events throughout the camping season. The Haubert Family provides fundraising support for local charities. Over the years, we have attended several events that have supported Shriners Hospital For Children, where the Haubert family continues to dedicate their efforts to help families of children in need of Pediatric Specialty Care.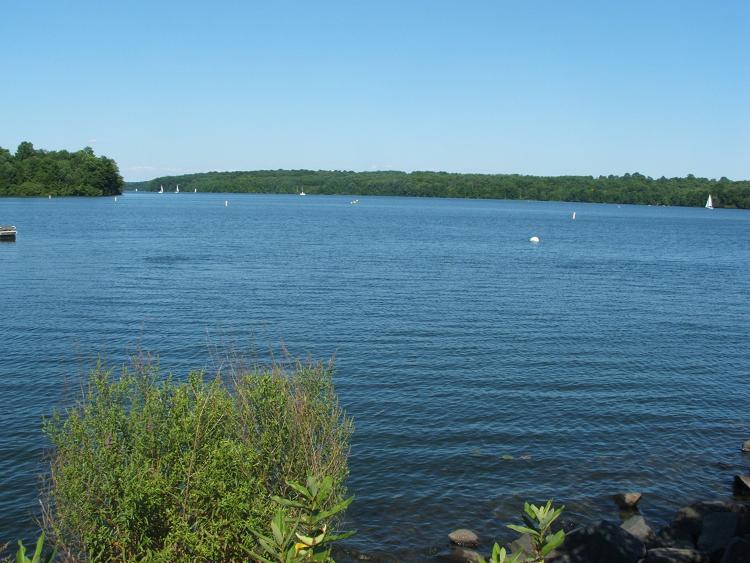 Local Attractions Near Colonial Woods Family Camping Resort
Local, you will find many attractions within a few miles of Colonial Woods Family Camping Resort. Lake Nockamixon State Park offers a variety of hiking trails to accommodate all skill levels: biking trails, boating and kayak rentals, and much more. Hike the Delaware Canal State Park. This 60-mile trail on the towpath of the Delaware takes you through history. There is too much to list! Please stop by the camp office to inquire about local attractions.
Colonial Woods Family Camping Resort stands as a testament to camping in the natural beauty of Upper Black Eddy, Pennsylvania. Therefore, this camping resort has become a cherished destination for outdoor enthusiasts and history lovers through its dedication to preserving the region's past while providing modern amenities. Whether you seek a peaceful camping experience or an adventure in the great outdoors, Colonial Woods Camping Resort offers a unique and memorable experience for all who visit.
Connect with our chapter!
Stephanie Lemma
Pennsylvania Guide
Girl Camper Magazine: Subscribe to Girl Camper Magazine here! Girl Camper Magazine
Events: Check out upcoming Girl Camper Events – you can attend events in any chapter! https://girlcamper.com/events-page/
Main GC Facebook Group – Join over 350,000 like-minded women in our public Facebook group! Girl Camper FB Group
Facebook Page – This is my public Pennsylvania page, where I'll share Girl Camper news, events, and more. Girl Camper – Pennsylvania
Private FB Group – Where you can interact with others who are interested in camping in Pennsylvania Girl Camper Pennsylvania Group.