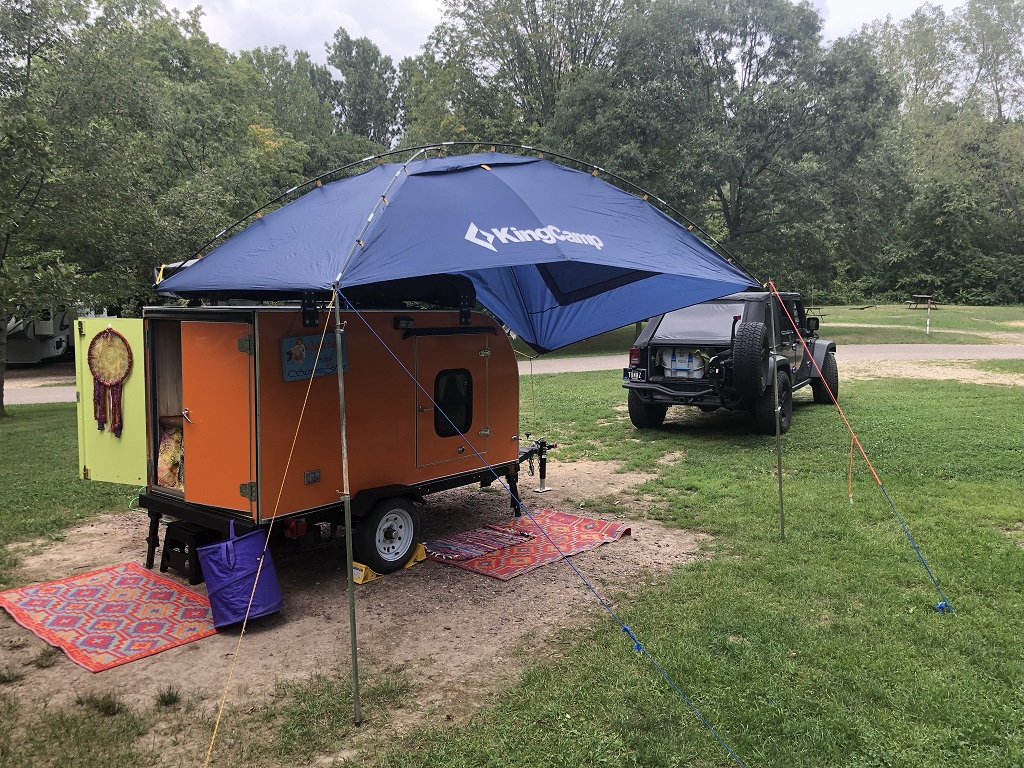 By Theresa "Resa" Leppert
This is how my idea of a DIY Camper Build came into being. Last year, when I joined Girl Camper as the Iowa Guide, I was camping in my little 4×8 Squaredrop, the Ginger Gypsy. 
While I LOVE that trailer, it just wasn't big enough for both me and the dogs.  The bed in it is only 43 inches wide and 75 long – and our Boxer girls are 70 and 80 pounds.  Even with an industrial shoehorn – just wouldn't fit.
Also, now that I drive a Jeep, I wanted something with a bit more clearance and backroad capability. Then I found a used GoFSR FreeSpirit rooftop tent on FB Marketplace, and the idea of a budget adventure trailer build was born.
Had to pitch the idea to my builder.
I pitched the idea to my husband, Chuck, who is the actual builder – and it took a bit of convincing, mostly because he still hadn't repaired the damage to our other adventure trailer, The Pack Mule, after our roll-over accident last September. He was struggling with some changes he wanted to make to the rack design…..
So what do I do? Give him another project to distract him so his subconscious can work out that problem offline. (That's my story and I'm sticking to it.)
I wanted to document this DIY Camper Build process as well as my expenditures, so I could show y'all what can be done on a budget.  The most complicated piece of equipment used for this was a drill press used to drill the holes in the steel tube of the rack.  There was some welding done as well, but one could have that done easily by a local welding shop.  Everything else was done with handheld tools like a circular saw, drill, cut-off tool, etc.
First purchase made Black Friday, 2021
On Black Friday, 2021, I purchased a 4×6 Carry-On utility trailer from Theisens, our local farm store. It was on sale, and I got it for $656. That little trailer was the base of my build.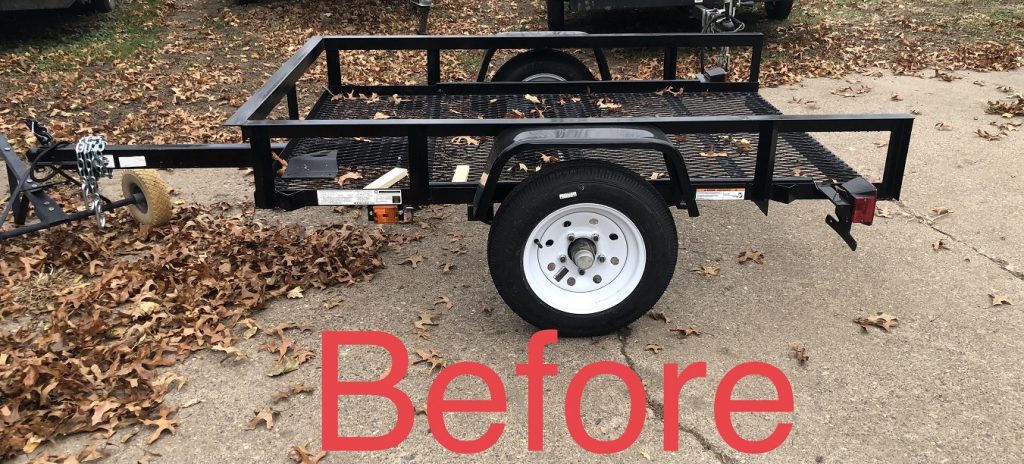 Phase 1 of my build included a swap of the springs over the axle and bigger wheels and tires to gain some clearance.
This involved removing the axle, welding on new spring seats, and we did purchase a new soft-ride spring kit. This got me an additional 4 inches of clearance!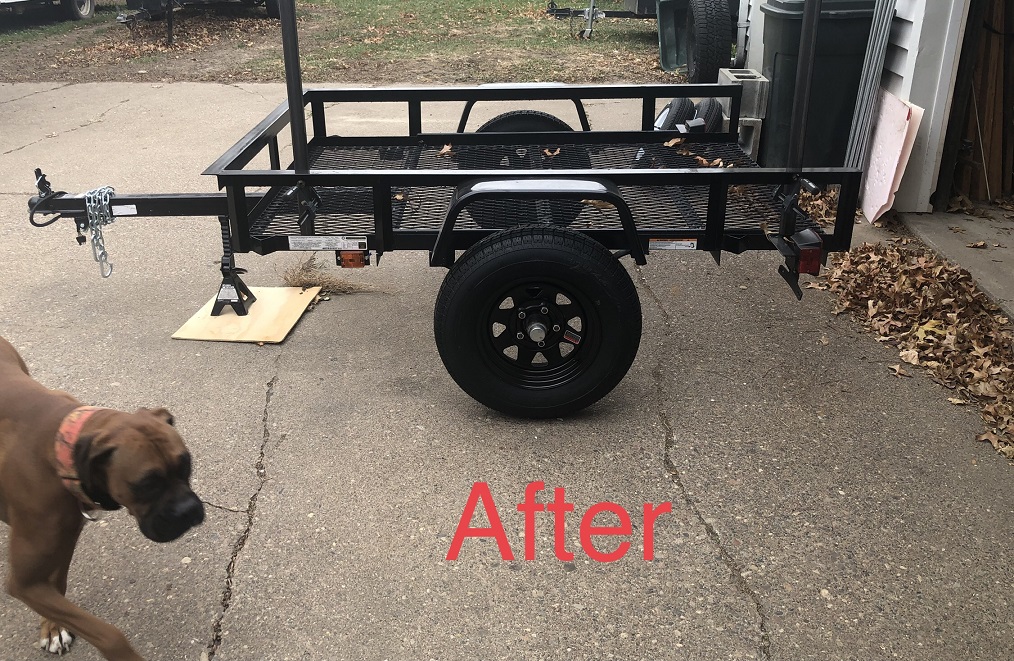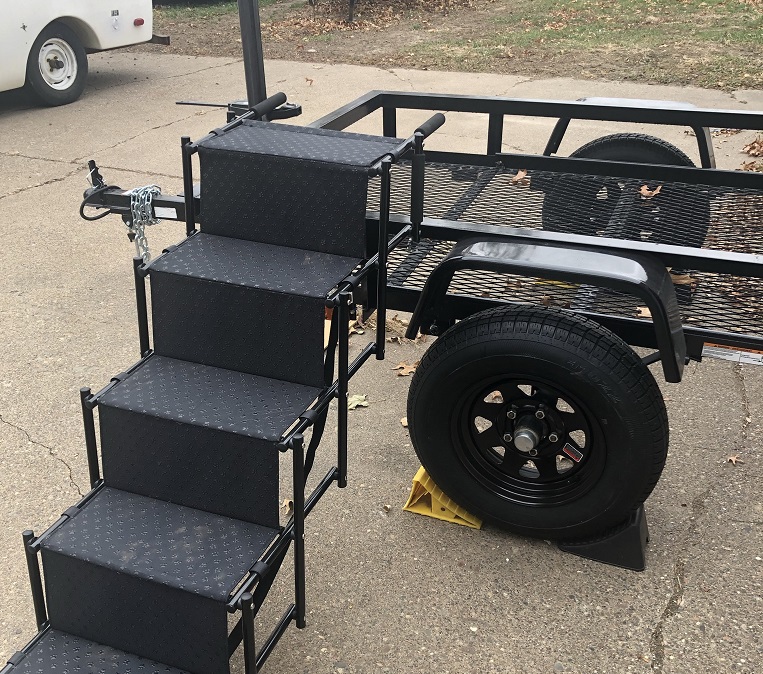 The Basis of My Design
Check out this set of folding stairs from Amazon. I designed this trailer around that one specific thing. These stairs are the only way I can get our dogs up into the tent! They are just too big to carry up the ladder, at least for me.
Where to get parts, info, and inspiration?
We found find all of the parts needed to complete this axle swap online from Compact Camping Concepts, an online store. Scott Chaney, the owner of CCC, is a great resource for all your adventure trailer needs and his customer service is top notch! He freely shares his knowledge, expertise, and advice with anyone who needs it on his online forum.
Stay tuned for a future article on phase 2 of this build!
Connect with me!
Theresa "Resa" Leppert
Guide Manager
Guide, Iowa & Wisconsin
563.284.2868
Girl Camper Magazine: Subscribe to Girl Camper Magazine here! Girl Camper Magazine
Events: Check out upcoming Girl Camper Events – you can attend events in any chapter! https://girlcamper.com/events/
Main GC Facebook Group – Join over 350,000 like-minded women in our public Facebook group! Girl Camper FB Group
Facebook Page – This is my public Iowa & Wisconsin page, where I'll share Girl Camper news, events and more. Girl Camper – Iowa & Wisconsin
Private FB Group – Where you can interact with others who are interested in camping in Iowa & Wisconsin! Girl Camper Iowa & Wisconsin Group.
Resa's Articles – Click this link to see all of Resa's articles on the website! ARTICLES
resaarticle