When I pulled into the driveway at Marsha's Minerals & Rock Shop, I had a slight pang of trepidation, as it wasn't an actual store front. Within a short time, I realized that's part of the charm of this incredible treasure trove.
The parking lot is the driveway for their home. Behind the house is a huge shop, more than a garage, it's a warehouse full of rocks. To keep costs down, they don't light and heat or cool the warehouse all day. Marsha came out, welcomed me, and walked me into the dark environment. I was by myself. Would any of my friends ever see me again? Is the rock shop for real?
Once she flipped the switch, I gasped an enthusiastic, "Oh. My. God!" as row after row of shelving filled with every kind of rock imaginable was illuminated. Soon Marsha's husband joined us and they tag-teamed on answering my barrage of questions as I slowly made my way down each row. The shelving is higher than I am tall, and at one point a geode cut in half just about jumped off the upper shelf toward me, even though I could barely see it! It was a white geode found at Mt. Shasta. It had to come home to live with me.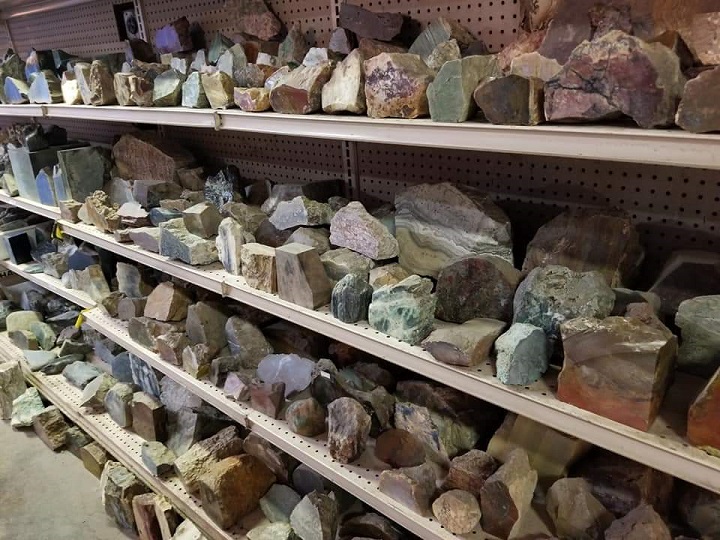 Eventually, we made our way to the rock yard area behind the shop. Wow! So much to see! At one point, I stopped and put my hand on a massive chunk of something powerful, asking, "What is THIS!?" A Rancher up in Oregon was bulldozing an area of land when the blade hit something so hard, it wouldn't budge. A chunk of it was sledge-hammered off and sent to The Smithsonian. It turned out to be a petrified tree from 300 – 350 million years ago. I brought home a 15-pound piece of that tree.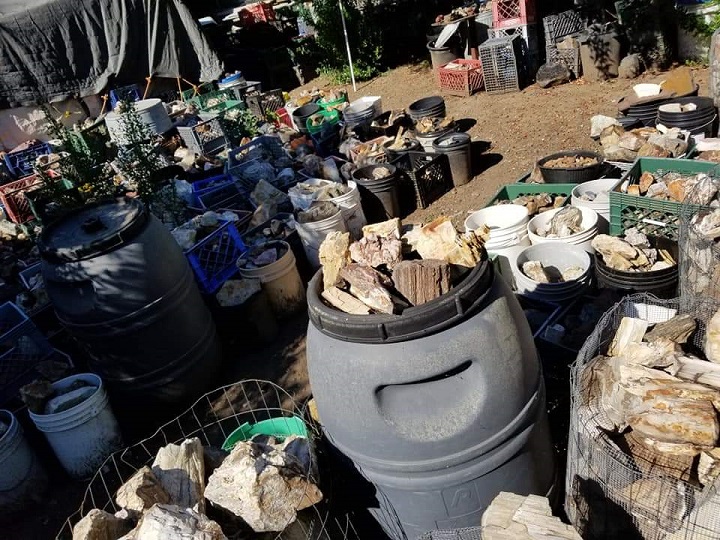 They took a lot of time with me and did not at all try to over sell me on anything. They appreciated my enthusiasm and offered up so much knowledge, it was impossible for me to remember it all.
Marsha and John used to live in the Monterey area, so they have rocks from that area too. This was an amazing outing for me, and if you like rocks, I recommend a drive to Los Molinos to see this collection. It's a good idea to call first, to be sure they are going to be there on the day you plan to visit and are planning to open the shop for visitors. Los Molinos is between Chico and Red Bluff.
(530) 384-1500
25157 Palm Street
Los Molinas, CA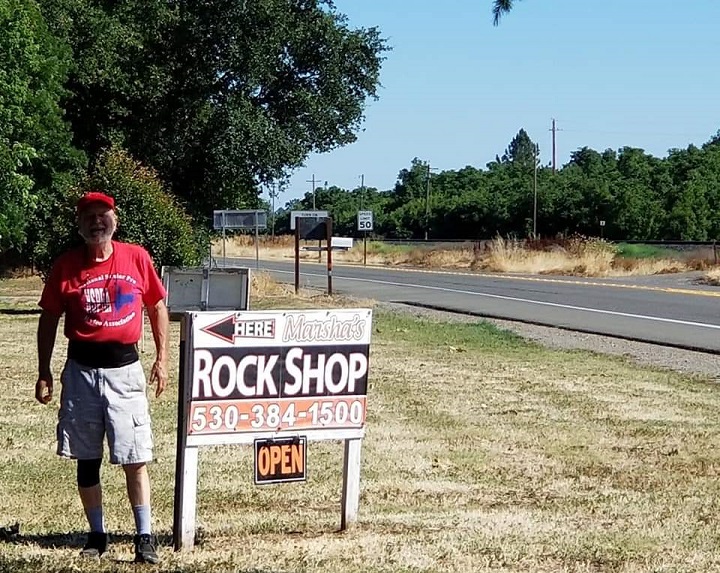 I love to tumble rocks; it's incredibly satisfying and addicting. If you are new to tumbling rocks and think you might want to try it, you might want to start with a three-pound tumbler:
I purchased the Thumler's 15 pound tumbler and it's been running almost 24/7 or more than two years without a problem. You can save money if you purchase grit in bulk. However, it makes it easier and faster for me to just purchase it in the pre-packaged correct amount for my 15 pound tumbler. I purchase from this family-owned small company: https://amzn.to/35WcrEB
I tumble rocks I find, but you can also purchase rock packets for tumbling.
Whether you like your rocks raw or tumbled, it's a fun hobby to expand your learning and share with others.
Article written by: Catherine Goggia
To see the complete list of my articles, click here: https://girlcamper.com/northern-california/articles/
Do you travel often or tend to take long trips? Let RV Trip Wizard be your trip-planning copilot, telling you where the campgrounds and RV parks are that will accommodate your RV, trailer, or tent – plus get a free RV Life GPS account: https://www.rvtripwizard.com/#5ff359c12459b
My awesome pocket camera with 25x zoom and good video: Canon Powershot
My laptop for working on the road: Light and Powerful Laptop
Follow the Girl Camper Northern California page: Girl Camper Northern California
Subscribe to Girl Camper Magazine here! Award Winning Design
Check out upcoming Girl Camper Events – you can attend events in any chapter! https://girlcamper.com/events/