By Karon Brown
As you may recall, my husband and I own a 26 ft travel trailer, a 2019 Rockwood Mini Lite 2507S. I love my camper. It's the perfect couple's camper for the two of us. I wish I could take it on all my camping adventures, but I am still a newbie when it comes to towing and backing up. I also find the set up is little a too much work on short weekend Girl Camper adventures. So, to keep it simple for quick weekend outings, I bought myself a Coleman 4-person Skydome Camping Tent!
Tell me what you want, what you really, really want…
Over the years, I have owned a lot of different sizes and styles of tents. In fact, I still have several in the attic above my garage. However, for my Girl Camper tent, I wanted something new to call my own and that met my solo camping needs.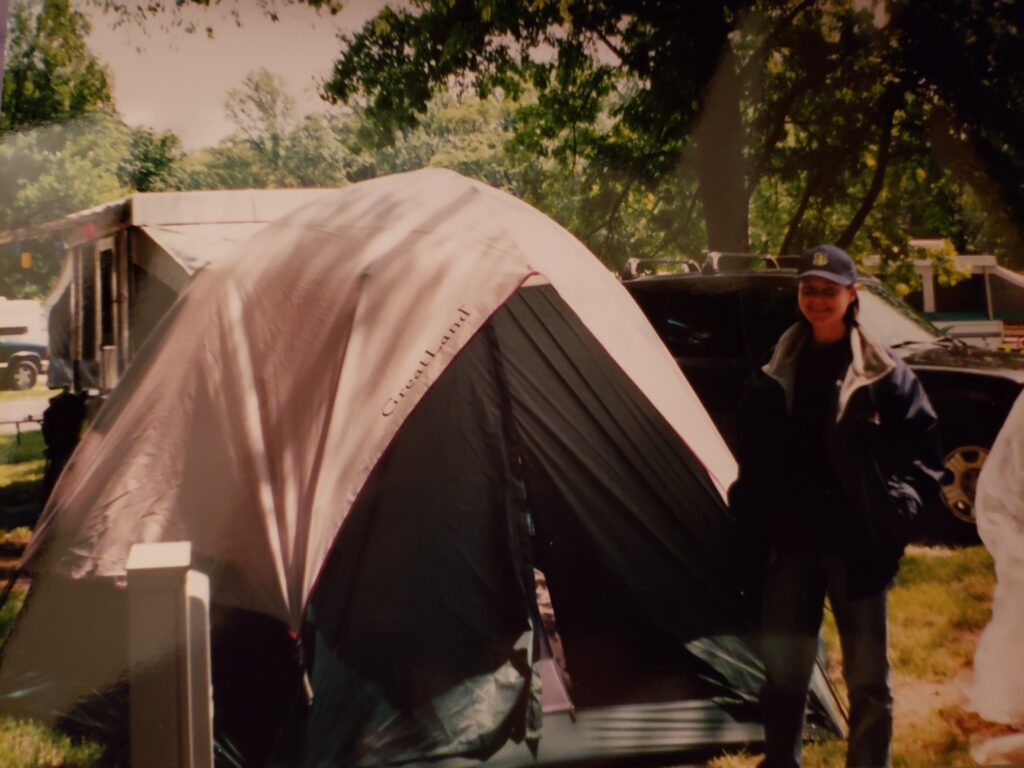 Since I would be setting up the tent by myself, the tent needed to be small, lightweight, and easy to set up. I knew for many of my weekend adventures, I would be arriving at the campground late in the day, at dusk or even after dark. A tent with as few parts and steps to set up was imperative.
When the tent is packed in its bag for transport, it needed to be small. I have a Subaru Forester. With all my gear and coolers needed for hosting Girl Camper events, cargo space is limited. Add kayaking gear or other outdoor toys and there's not room for much else.
I didn't want anything too large. It just needed to big enough to fit a backpacking mattress, duffle bag, and to keep miscellaneous gear out of the elements.
The tent would be used early spring through late fall in the Midwest. We can have ice, monsoons, and sweltering heat here in Illinois and that's just in one day! For this reason, tent needed well ventilated, but also have good weatherproofing.
Lastly, I didn't want to spend a small fortune – under $100 was my preferred budget.
And the winner is…
I did a lot of research comparing styles, brands, and reviews. Online I looked at just about every retailer that carries tents: Amazon, REI, Wal-Mart, Target, Moosejaw, Backcountry, Sierra, Bass Pro/Cabela's. I kept coming back to a name that always gives me the warm fuzzies when it comes to camping gear – Coleman. Specifically, their "Skydome" line of tents. I selected the 4-Person Skydome Camping Tent.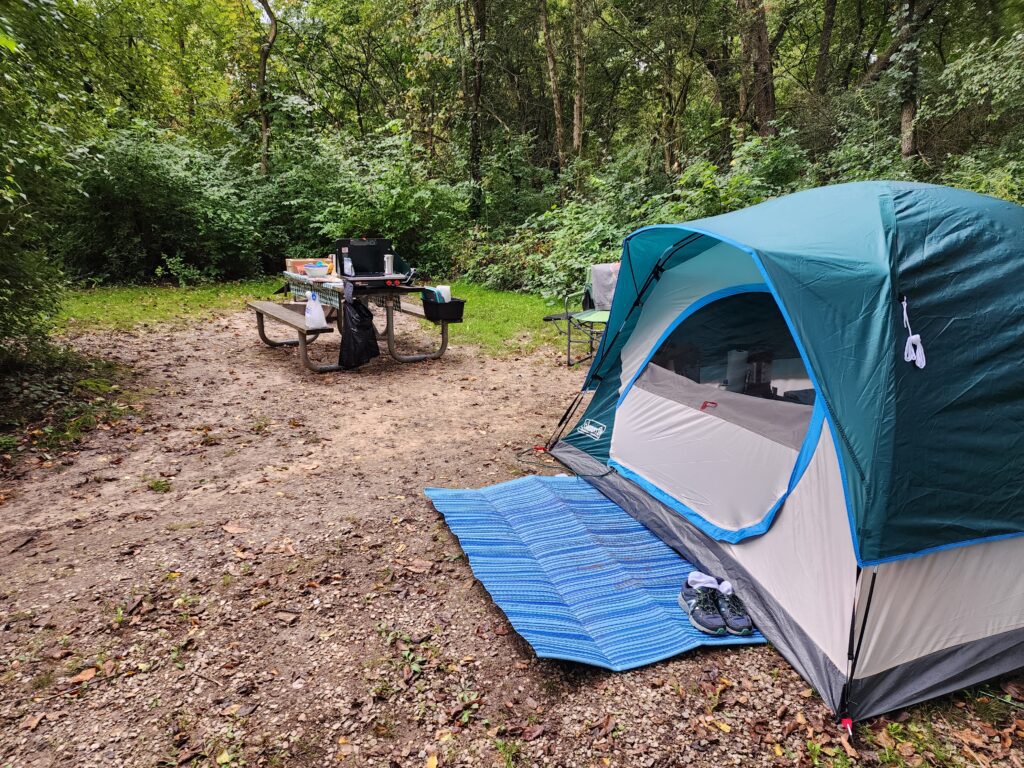 Here are some of the tent specs:
Overall size is 8' x 7' foot with a 4' 8" center height. This will fit a queen size inflatable mattress and has 20% more headroom than traditional dome tents.
The poles are pre-attached to the back corners of the tent and once extended, they easily attach to clips on the corners of the 4 tent walls – no threading the poles through pockets or sleeves.
Set up for one person takes about 10 minutes, but with a second person would take even less.
This tent has the "WeatherTec System" construction which includes tub-like floors, welded corners, inverted seams, and it can withstand winds up to 35 mph.
The upper portion of the tent is screen which allows great air flow and ventilation, and with the rain fly installed still excellent protection from the elements.
It includes thoughtful accessories such as a mesh storage pockets on the side wall, and a gear loft that attaches to the space at the top of the tent dome.
This tent comes in several sizes for 2, 4, 6, or 8 persons as well as with or without "Dark Room" technology.
MSRP is $114.99, for the 4 person size, but I paid $79.98 at www.walmart.com with free shipping.
So far I have experienced one very stormy night in this tent and not a drop of water came in. Another trip was in pretty chilly autumn temperatures. I used my cube heater to keep it toasty warm inside and with the extra ventilation from the upper screen venting, there was no interior condensation. I really love everything about this tent and it has been a great investment so far!
Karon Brown – Contributing Editor & Illinois Chapter Guide
Connect with me!
Facebook: Girl Camper Illinois Page
Instagram: @girlcamper_illinois