I love Farmers Markets! I am just putting it out there, what a great way to start a
Saturday morning in the Spring, Summer, or Fall. Right now, peaches are in and so good.
My visit last Saturday was extra special because I was able to bring Girl Campers from a campout into town and go shopping at the Taos Farmers Market.
Remember: always bring reusable bags and cash.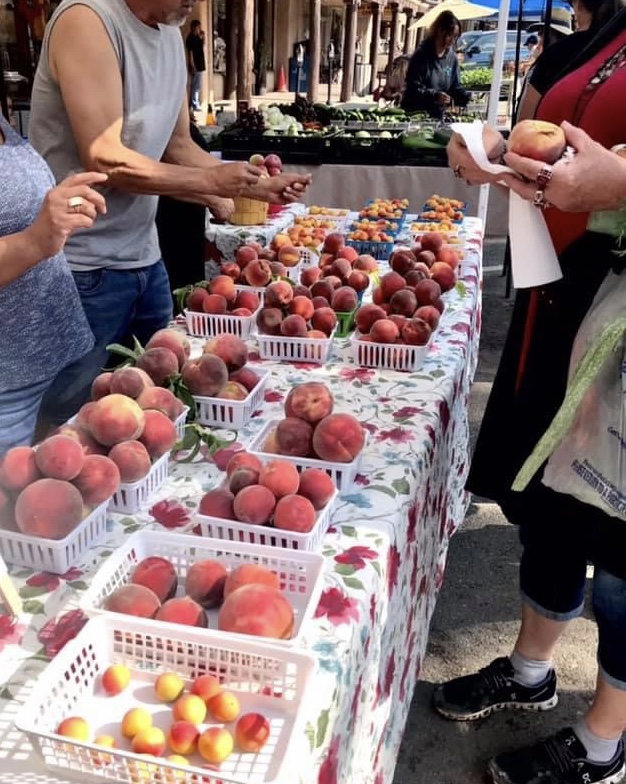 We started out early and found breakfast treats, bread, pastries, and crepes being made of every kind.
Fresh Fruit Frescas and breakfast burritos with veggies, eggs, and sausage for more breakfast items.
The Taos market is small but still has a variety of items, from vegetables, fresh cut flowers, and natural make-up. Needing local honey, that can be found, along with plants, veggies, and fruit.
Live music is always playing, it's a joy to watch the small children dance around to the music.
You need a personal poem? That can be written as well, just give the writer a subject.
Some years the Taos Farmer Market is located on the Plaza and others it is at the Taos County Court House, on Rt 68, just before the plaza.
When visiting Taos, or any place, I always make sure I find the local farmer's market. Besides great food, it's fun to find locally made gifts.
Get out there and support your local farmers.
Written by Bonnie Shafto, New Mexico Guide
Please join my Facebook group
https://www.facebook.com/groups/girlcampernewmexico