Podcast: Play in new window | Download
My guest this week is award winning radio and TV host Alan Taylor. Alan is a 30 + year veteran broadcaster and auto expert. He also hosts the popular Entrepreneur Weekly Podcast for Entrepreneur Magazine. He has worked with Motor Trend, Car and Driver, Inc. Magazine and Popular Science. He is a regular contributor to ABC's "LIVE with Kelly & Ryan" as well as guest appearances on CBS, CNN, Fox News, NBC and the SPEED channel.
I asked Alan to come on the show to talk about midsize SUV's and lightweight trucks with a tow capacity of at least 5K pounds. I often see women who purchase an RV thinking that they can tow it with their existing vehicle. A lot of the times the numbers just don't add up though. Perhaps it's a 2000 pound trailer when empty and they want to tow it on their vehicle that has a tow rating of 2,500 pounds.I always encourage women to use no more than 80% of what their tow package allows for. I personally go much lower myself.
Tune into the full podcast episode to hear Alan's thoughts on what's new in the automotive and towing world. You can listen to the podcast by clicking the arrow below.
Ford Explorer has been redesigned and is coming out with a hybrid that will tow on battery power. It will be able to go 500 miles on a single tank of gas. It has three rows of seating, skylight roof and a towing capacity of 5.5K pounds. It boasts a 3.5 L engine with a V6 eco boost and 6 speed automatic transmission. Base price is 32K.
https://www.ford.com/suvs/explorer/models/">https://www.ford.com/suvs/explorer/models/
Toyota Highlander is also coming out with a Hybrid that will have a towing capacity of 5K pounds. I had the opportunity to see it at the NY Auto Show and it is sleek with a lot of technology upgrades including a 12.3 inch screen on the dashboard, built in Wifi, Sirius radio and Alexa. It has an incredible moon roof and beautiful exterior color choices. With that comes a 3.5 L V6 engine with an 8 speed automatic transmission. Starts at 35K.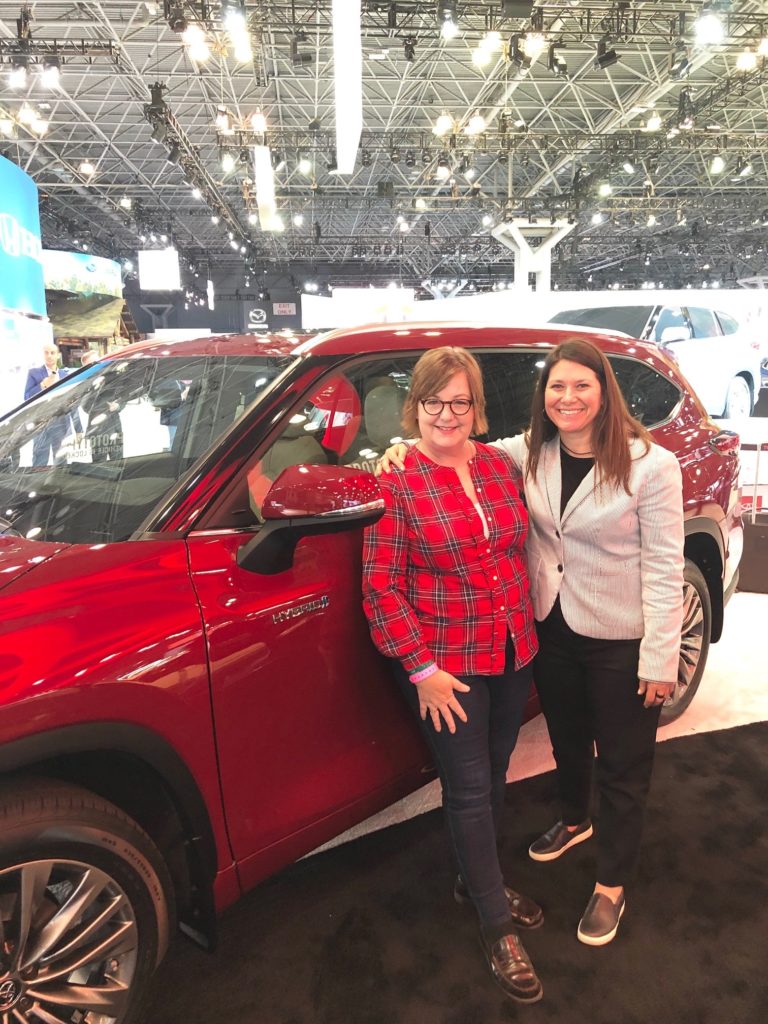 The Dodge Durango was a favorite of mine. There was a lot of bang for your buck in this vehicle. It is larger than the mid size SUV's and has over 130 cubic feet of storage on board. It has the 3.6 L V6 engine that many of them have but with an 8 speed automatic transmission. It had the lowest base price for the highest tow capacity starting at 29K.
Chevy Traverse had lots of great features. It towed 5K with a 3.6 L V6 engine. Was best in class for cargo capacity with 98.3 cubic feet. It gets 17 miles per gallon in the city and 27 on the highway. It had three rows of seating and also a great roof skylight. Starting price of 34K.
https://bit.ly/2FstNNm
Alan was a big fan of the Jeep Grand Cherokee. For those with deep pockets it has a towing capacity of 7200 pounds. They offer a 5.7L V8 model that starts at 67K.
https://bit.ly/2FtEzDa
Lastly we chatted about the Volkswagon Atlas, a favorite of mine from the show. It had really impressive interior storage, a 3.6 L V6 engine with an 8 speed transmission, a tow package of 5K pounds and a starting price of 34K. It is a really attractive car with a lot of curb appeal.
https://www.vw.com/models/atlas/section/overview/
Although so many of these sound like they have the same engine, same tow capacity and same overall styling, they offer many different features, colors, dashboards and exterior designs. The way a car feels when you are sitting in the drivers seat, the location of the radio dial, heat, fan button and phone are so important. I had my last truck for ten years and I bought it used. When I finally had to give it up I waited 5 months before I found one that "felt" right.
I am including this link for more mid size SUV's and hope you find one that not only feels right for you but gives you more than you need in towing power.