By Janine Pettit
We think that camp food should be fun and we loved exploring the idea of food on a stick. Not just kabobs, but snack food, breakfast food, cocktail garnishes, desserts and everything in between. Food on a stick is pretty, portable and fun to prepare. It allows you to add many layers of flavor and serve a whole meal on a set of sticks that you can reuse or toss in the fire. It's also a great way to prep meals ahead of time and save space in your fridge or cooler. Here are a few items we created to inspire your own meals on sticks!
Breakfast on a Stick
British breakfast favorite bangers and mash, served up camp style, is a hearty way to start the day. Load your skewer with sausages, small Yukon gold potatoes that have been blanched ahead of time to speed cooking, and tomatoes. Drizzle with olive oil and cook slowly over hot coals. Toast up a slice of thick cut bakery bread and a big serving of Kerry Gold Irish butter for a memorable meal.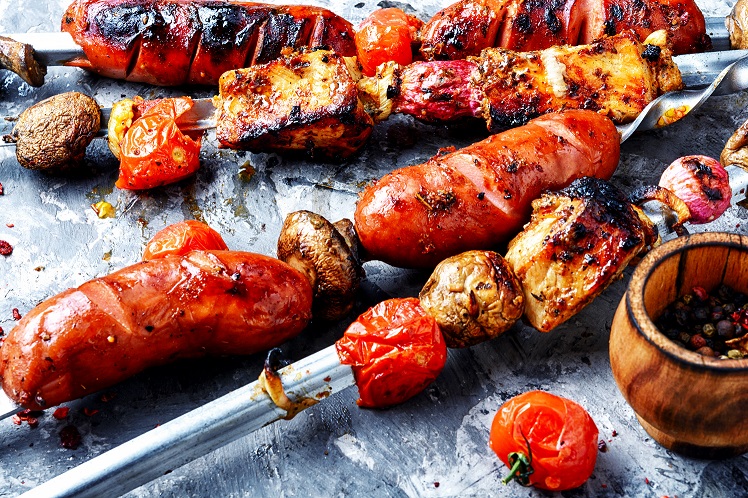 Charcuterie on a Stick
A great make-ahead snack for after a hike or a cocktail hour nosh is charcuterie on a stick. You can source a lot of the ingredients off the salad bar buying just what you need with no leftovers. Add sliced cured meats and a few fresh basil leaves between the offerings. Top it off with some fresh melon for a little savory and sweet. Store in plastic container with a damp paper towel on top.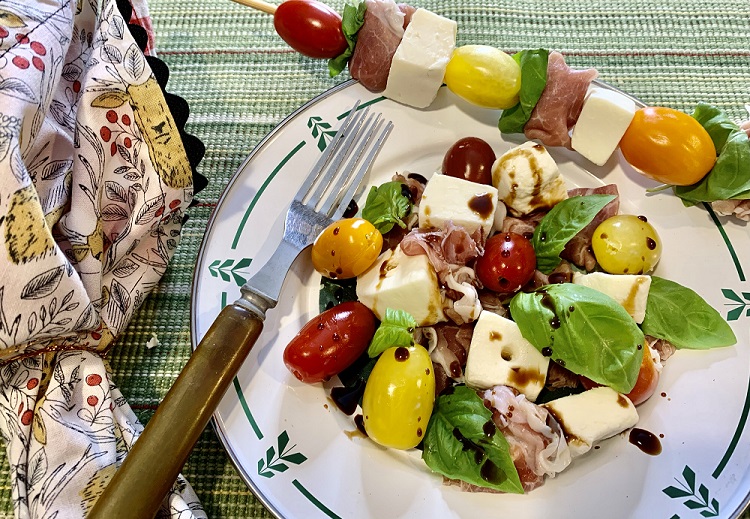 Fish Filets on a Stick
Instead of shrimp on a stick, surprise guests with filets of fish that have been seasoned, rolled and grilled with the skin side out to retain moisture. Use a Cajun rub on catfish or try store-bought pesto on Dover sole filets. Add lemon wedges between small rolled filets, brush with olive oil, making sure to oil the cooking surface, too.
Proteins on a Stick
Grilling beef and chicken on kabobs is a fun way to accommodate different palates. Cut the meat into one-inch chunks and marinade in your favorite flavors. Skewer beef and chicken separately so guests can choose what they want. Serve up different dipping sauces and toasted bread. Roasted heads of garlic drizzled with olive oil and kosher salt make a great accompaniment to this meal.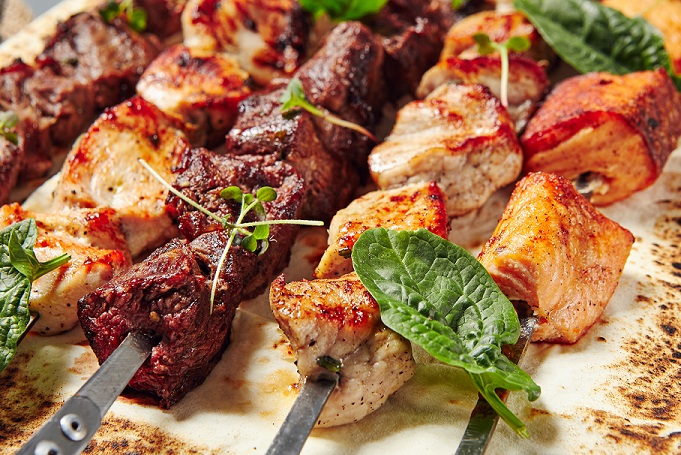 Fried Dough on a Stick
Nothing tops off an evening at camp like fried dough! Scavenge a great roasting stick and whittle off the bark. Wrap the dough from store bought biscuits or cinnamon rolls, making sure to bring up the tail end and press it into the dough into a tube. Slowly turn over hot coals until it is done to perfection, then sprinkle with sugar or icing.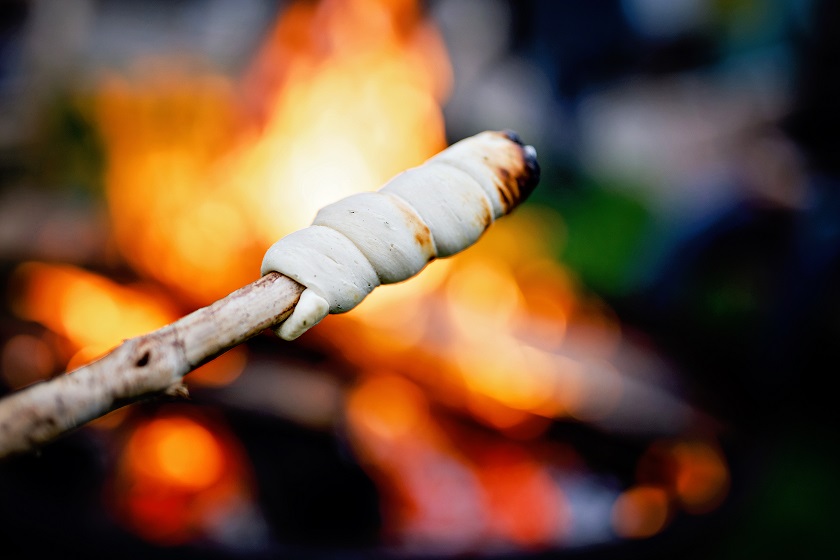 Fruit on a Stick
Skewered fruit is a versatile camp treat. Add some yogurt and have it for breakfast. Add a long stick of it to a cold drink for an added pick-me-up. Grill it for an after-dinner dessert that can be drizzled with honey or your favorite liqueur. You can make a whole batch ahead of time and use them for all these things over a camp weekend.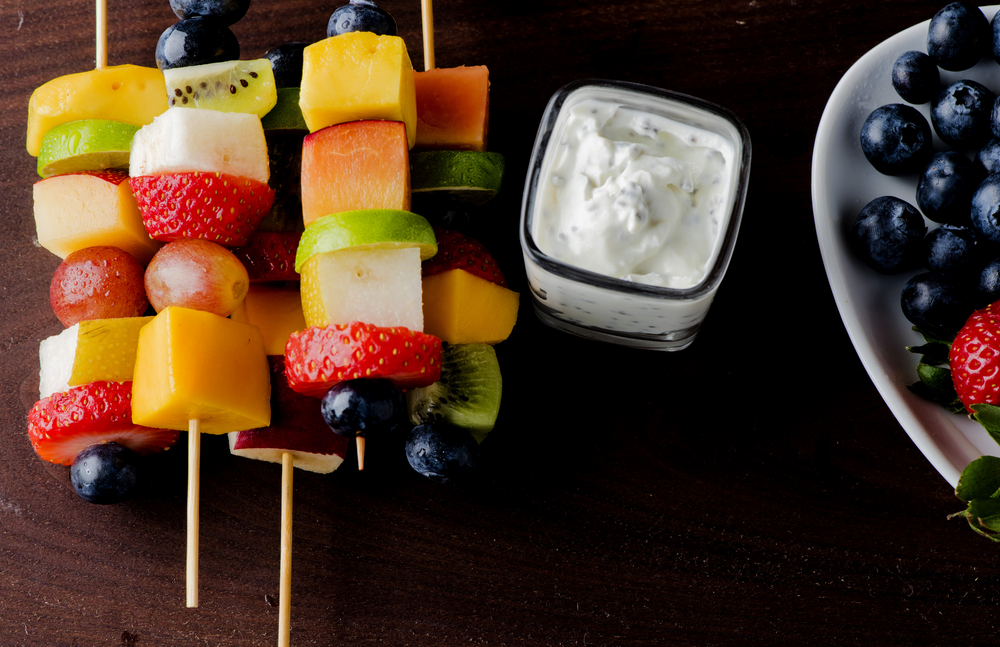 Cocktail Garnish
Don't forget the cocktail garnishes when you are making food on a stick. A toasted marshmallow on a s'mores martini or an olive selection on a bloody Mary take any cocktail or mocktail to a new level. Sweet or savory, these toppings offer the cocktail and appetizer in one.
Tips
Use skewers that have a flat blade on them, so your food doesn't spin.
If you are using bamboo skewers, use two to keep food stable.
If you are cooking a delicate fish, roll it skin side out and spear the roll.
Make hamburgers by forming them lengthwise on a skewer and cooking them like a hot dog.
Precook chicken on bones by boiling water, turning off heat and letting chicken sit for 30 minutes in hot water. Pat it dry, skewer and heat on grill.
Meat can be cubed or pounded out flat for cooking.
Make different salads on a stick ahead of time and pack in a storage container with damp paper towels separating them.
Make a summer drink festive by adding a stick of fresh fruit with mint leaves to it.
Mini-charcuterie sticks are a great way to pass an appetizer around the campfire.
When cooking lamb use rosemary branches stripped of their foliage for skewers.
Purchase cedar skewers to impart extra flavor to your meal.
This article was first featured in the Girl Camper Fall 2022 magazine.