By Tony and Peggy Barthel
To say the RV industry is male-dominated might be one of the biggest understatements ever. So when Ashley Bontrager-Lehman founded Ember RV with three other people, it was a significant move. To do so during a pandemic was even more astonishing. Ashley comes from a family that is a legend in the RV industry. Her grandparents, Lloyd and Bertha Bontrager were the founders of Jayco. The path to that company's success was paved with the idea to improve RVs by inventing a different lift mechanism for the top of the company's signature pop-top campers.
Creating a different RV might not be something you expect from someone who has spent her life entrenched in the industry, but then Ashley also owns a campground and enjoys RVing. She attended Butler University, then returned to the family business, where she was eventually promoted to director of marketing. She then co-founded Ember in 2021 with Chris Barth, Steve Delagrange and Ernie Miller. She credits Barth, who had been closely following trends in RV usage, with the idea and design of the overland vehicles.
"Customers are looking for a different experience and want to have more options. We looked at European and Australian markets for inspiration," said Ashley. As the first Ember models began to take shape, one of the visions of the team was to create a product that could go from the dealership to the campground and fit the needs of the owners right away. "The idea that we give the customer the things they're going to want anyway didn't seem crazy to us," says Ashley. "This is the way customers are trending anyway. That way they don't have to do work after they buy the unit. We should be focusing on after-the-sale communications to teach people what you can do with RVs and how to camp in them."
Made to Last
"We looked at the fears and concerns that our customers had," says Ashley. The team reviewed RVs from across the globe and drew upon research by the RV Industry Association (RVIA). Having a family herself, Ashley (and her team) have worked to create a product that is intended to outlast the loan payments. There are absolute differences in how an Ember RV is built compared to other RVs, starting with the choice of materials. "We aren't shy about sourcing higher quality materials," says Ashley. "We want to create a generational RV. When you source higher quality products it's going to come with a price tag and we're not afraid of that."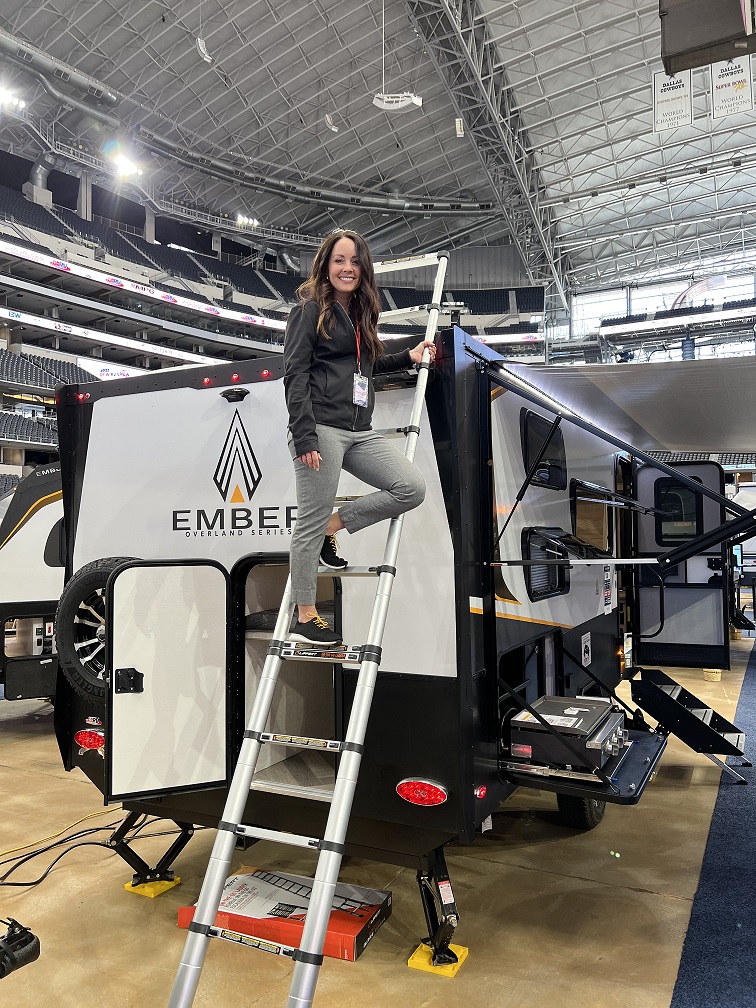 She was very intentional about a lot of the design of the RVs, including the Murphy bed. She said, "Make it go away so I don't know there's a bed there." Another item she was passionate about was the Stargazer window, which is a window above the bed that features an integrated shade and bug screen. It can be opened for air flow or just enjoyed from bed while looking at the stars.
Sustainable Products
In being intentional about sourcing products made in the U.S., the company also came across some items that are more sustainably sourced. For example, a component used in the walls is made of recycled plastic material, but the customer benefit is that it doesn't deteriorate even if it gets wet. Further, Ember uses the same wall build method for the ceiling, which is not at all typical in the RV industry. Rather than use wood in the floors, Ember uses a composite that is also water resistant. In fact, this flooring is so good it's also used in Airstream trailers, though except Ember asked for the material to be twice as thick as what you'll find in an Airstream.
Teamwork
But the environment at the Bristol, Indiana-based company might be among the most refreshing part of Ember. Rather than simply creating another RV company, Ashley says, "We wanted to create a healthy and welcoming work environment where everybody can feel like they're valued and can bring something to the table. If we have happy team members, it lets us build a better RV."
Company employees have the opportunity to test units at Ashley's campground and can take test units on the road to try them out. "We have units available for the team members, so they know what they do matters," says Ashley." But we also listen to their ideas to make things better." Ashley has her own Ember RV, as do most of the decision makers at the company. This might sound typical, but it's really not. Ashley has an Ember 191MDB, a bunk model that accommodates her family of four.
What's in a Name?
When the company launched their products, one of the first examples of it having a unique personality was in the naming of the two smallest models, the ROK and the ROL. Sure, the names are acronyms meaning Rear Outside Kitchen and Rear Outside Locker, but that's not the origin story. Instead the name started when Ashley was putting her six-year-old son to bed. He said that one of the units absolutely had to be named "rock." Taking the idea back to the team, Christopher Barth, also a former Jayco team member, took it and ran with it, assigning the acronym to the new model. "Since we had ROK, we also had to have ROL," says Ashley.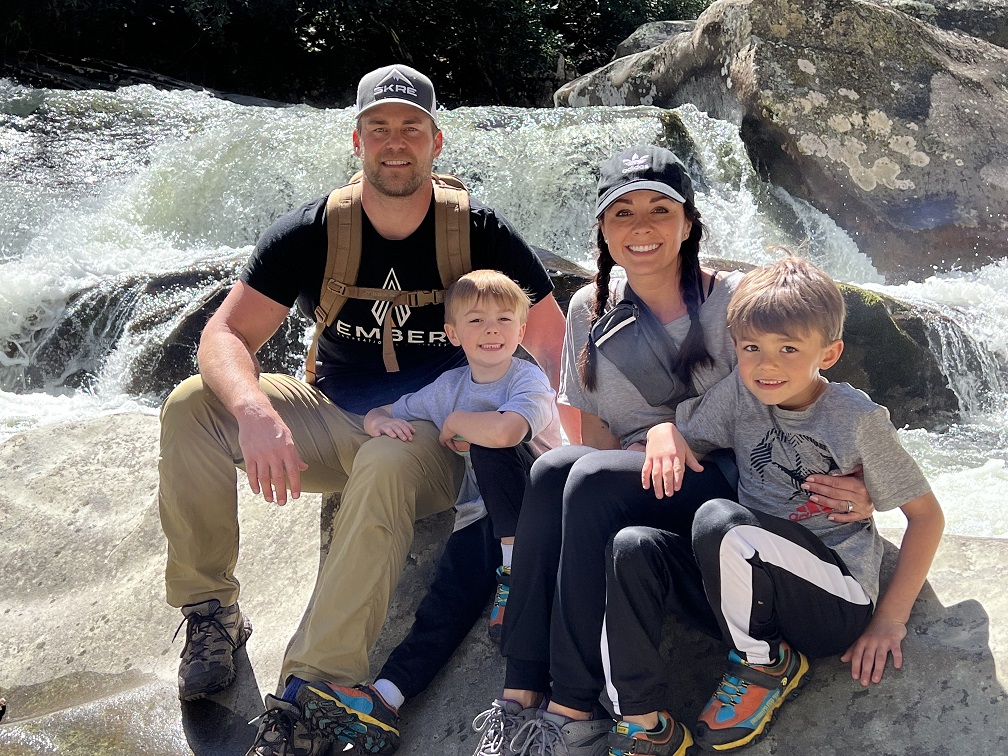 Oh, and there's an Easter egg in each Ember unit that you'll want to keep an eye out for, again exemplifying the company's quirky style. We don't want to give it away, but it urges the use of common sense. It's just one more example of a refreshing departure from the norms, headed up by a Girl Camper.
This article originally ran in the Winter 2023 issue of Girl Camper Magazine. Subscribe here.