Are you the only girl camper in your family?
I am among (at least) the third generation of die-hard Girl Campers, with a fourth generation now beginning to raise a fifth!
I told you before about Grandma Marcy. Generation Two is my mom Roberta and her sisters.
I've been asked "How did you know you could be a Girl Camper?" Honestly, I never didn't know I could be, because my Mama is a bosslady girl camper who showed my siblings and me that if we want to do something, we can do it.

Mama grew up camping (you know, with Grandma). My grandparents took my mom and her siblings (one brother, two sisters) camping when they were growing up. Grandma shared that one time they forgot the tent poles so they camped out of the back of the station wagon instead.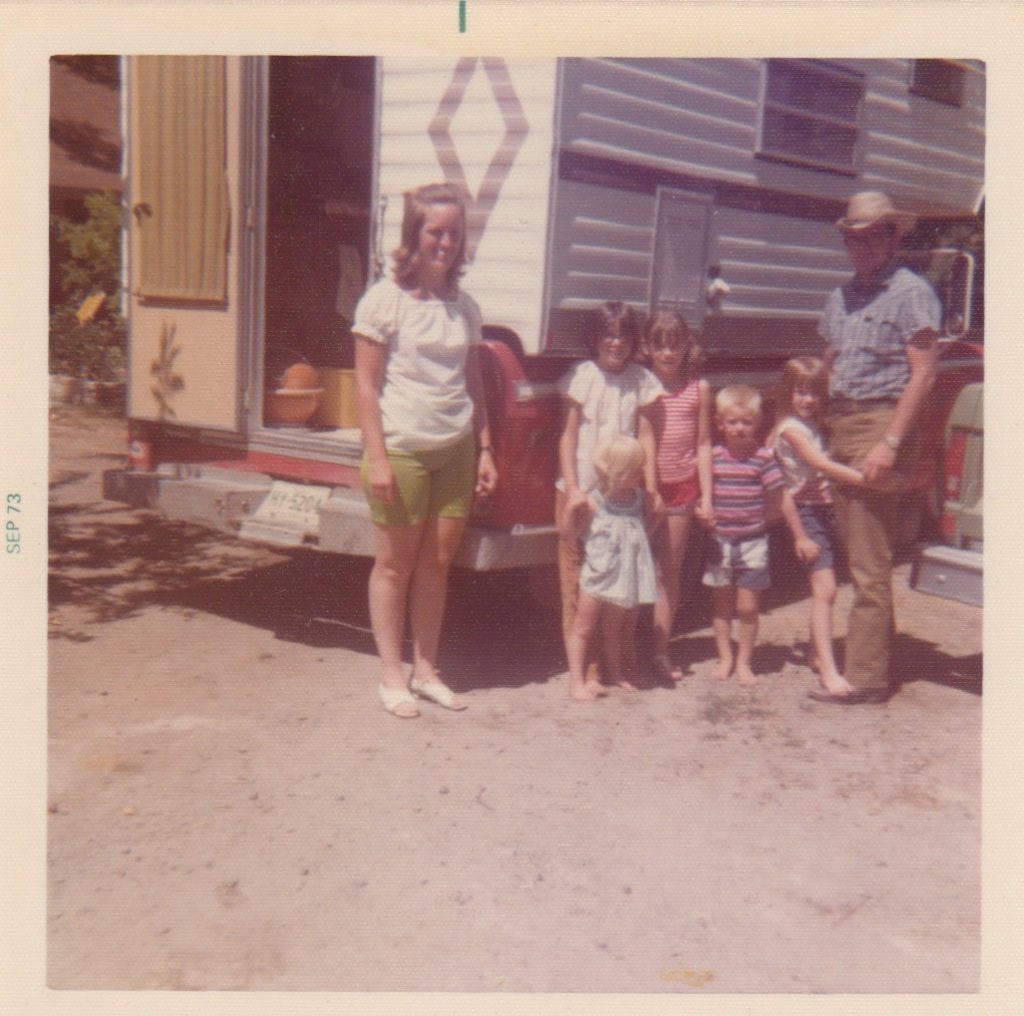 And Mama didn't let being a grown up stop her! She and my dad camped right out of the gate, on their honeymoon. I maintain, based on timing, that those were the circumstances of my conception. There were family camping trips throughout my youngest years. I recall many photos of infants camping. For several of those early years my dad worked for Mitchell campers and my mom was an early entrepreneur, making curtains for those same campers.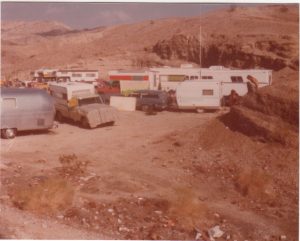 And when Mama found herself as a single mother, there were still family camping trips. She took all five kids camping. I don't know how we all fit, but I know we had a small Cardinal travel trailer for a while, that she pulled with the station wagon. Maybe some of us slept in the car?!? There were always lots of friends and family members on those trips so the kids had someone to hang out with.
When I was in high school, Mama bought a 1966 Winnebago. It was her only vehicle, and it was also our camper. During the week Winnie took us to school, church, and grocery shopping and made deliveries of my mom's work to her employer. We were so lucky having Mama work from home.
Many weekends the extended family, and family friends, would drive out to the desert for fun in the sun and sand. In southern California there were a lot of places to camp that didn't include a campground, we had our favorites and would round up the campers and trailers and tents for a few days away from the bustle of the city. My mom's sisters, Kathy and Margie, and their families would join us, as well as my grandparents.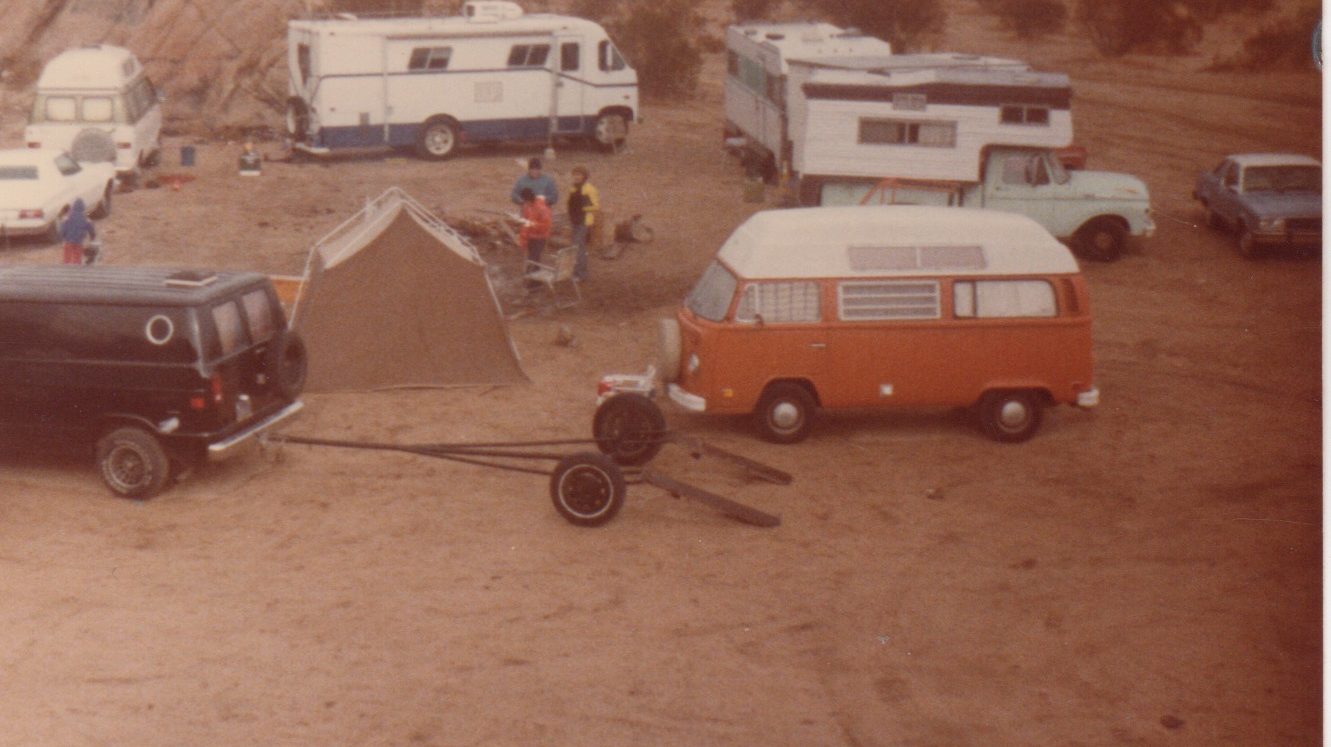 Remembering camping trips with my family brings back such fabulous memories. At home, my mom worked so hard all the time, and didn't really have much time for family activities. But when camping trips were being planned, she took the time before the trip to make cinnamon rolls. When we smelled those, we knew camping was in our near future! While camping, she didn't have to work and we had big family breakfasts (that nostalgia makes breakfast still my favorite meal) before spending the day exploring the desert. There was sausage or bacon, French toast or pancakes, and eggs fried in bacon fat (the only way!!). We got to mix and stir our own hot chocolate. And of course, cinnamon rolls!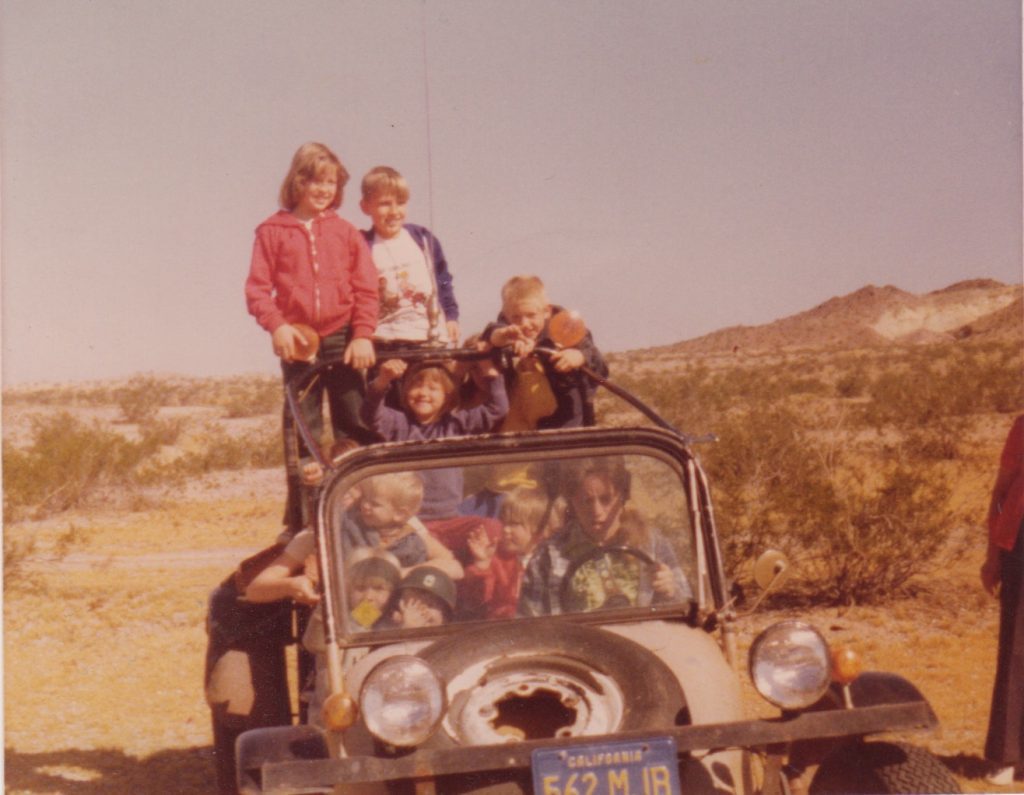 Once, Mama borrowed Grandpa's Baja buggy and took the five of us for a ride. She got us in a tight spot, and not wanting to wreck the car, we got out and headed back on foot to get Grandpa. What a calvary! The whole dune buggy club jumped in their buggies and headed to "the site" where Grandpa turned the wheel and drove right down the side of the hill!
Mama kept Winnie until just a few years ago. They didn't do as much camping, but Winnie would get parked at a prime spot in the park early in the morning on days of events, and the family would gather for breakfast before enjoying a day in the park then a BBQ back at "base camp." This was especially fun on July 4th, when we would lay out blankets on the lawn and watch fireworks together.
Now that those years are in the past, I inherited some of the camping supplies. My favorites are the Melmac plates and the toaster!
She may not be camping any more, but now Mama plans family trips and we travel all over the country! Of course, Tony and I still take Curby along and join in the family fun.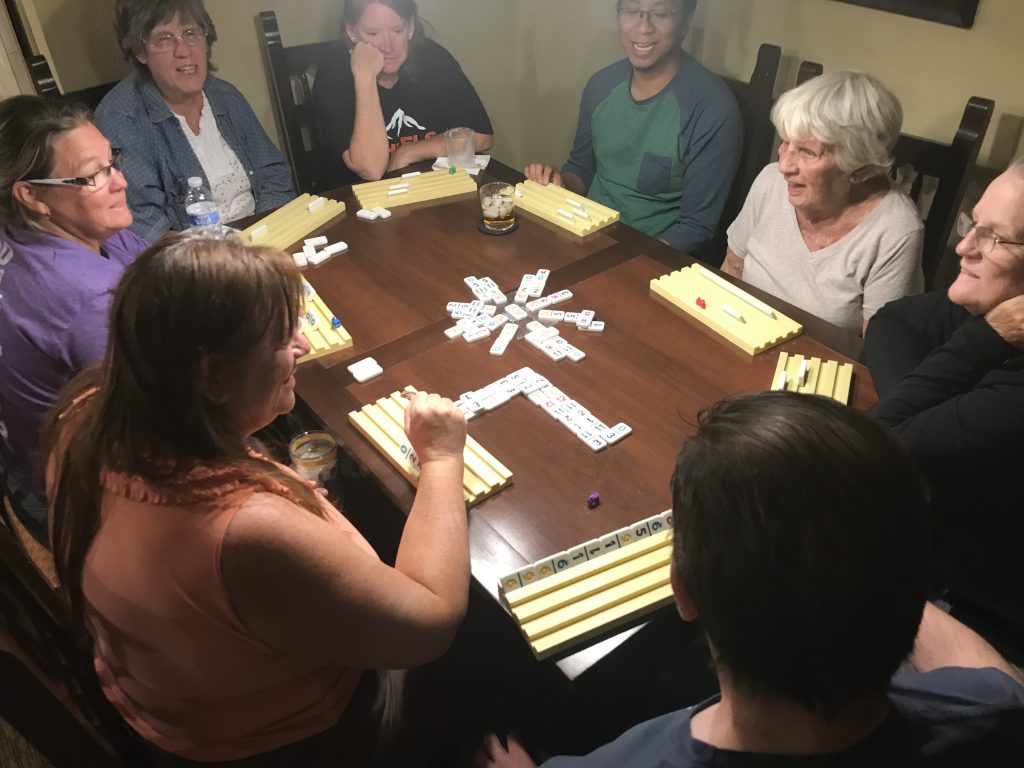 I credit my mom for keeping the family close-knit and traveling. I am also proud that I inherited her kind, caring heart and desire to help people; a strong sense of independence; and the ability to stay strong and patient while I achieve my goals.