As many of you know, I absolutely love to make breakfast at Girl Camper events using my tripod and cast iron skillet. This exceptional rig makes cooking for a crowd easy peasey! What I love about the tripod is that it's not a foreign import nor is it mass produced. Tim Bourne has manually created this wonder since 1988 and each rig is a labor of love.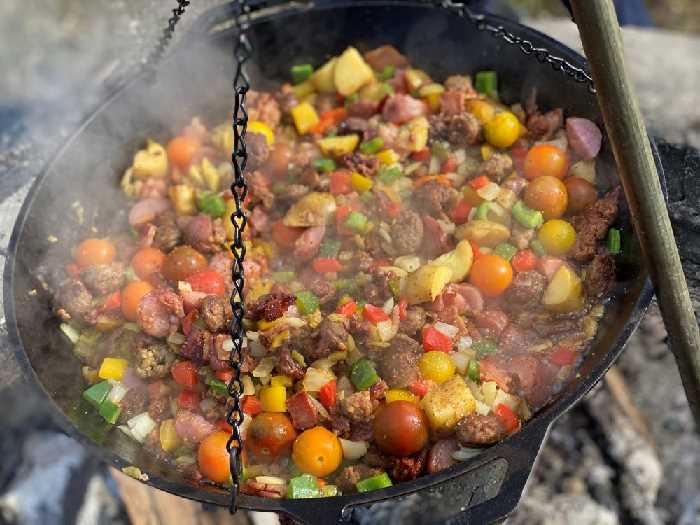 Over the years, Tim has mastered and perfected every aspect of this piece of equipment that should last a lifetime. The tripod itself is not heavy (only 8 lbs. with grill) and has extensions to add length if needed. The best part is the pulley system enabling easy adjustment and locking in place so the grill grate or Lodge skillet can be adjusted to varying height degrees over an open flame while cooking.
I met Tim at the Pentwater, Michigan farmers market in 2019. I knew the moment I saw the Bourne Grill tripod that I must have one! The tripod comes with a porcelain coated grate and you can separately purchase a 12" or 17" Lodge skillet that Tim has customized by drilling out the necessary holes for the chains to attach to the tripod. Did I mention this is a no-assembly piece of equipment? Ah! No assembly instructions needed.
It makes me feel proud to know that I am supporting an artisan that is committed to only the highest quality products to create a turnkey camping "must have"! If you are fortunate enough to live in Michigan, you can find this "grill wonder" at a few retail locations. But don't fret, you can purchase it in the most personal way "one on one". Tim actually loves to interact with his potential customers whether on the phone or online. He is more than willing to answer any questions and share his grill tidbits to ensure you maximize the benefits of his creation. Only happy customers here! These handcrafted grills can be purchased directly from Tim at [email protected] or call him at 231-740-9000.
Let Tim know you are a Girl Camper and he just might offer a discount on shipping! Check out www.michiganoutofdoorstv.com where you will find several videos featuring Tim and his grill.
I look forward to seeing you at the next campfire while I make a cowgirl breakfast with all the fixings!
Rayma Waters |Girl Camper Guide to Ohio
Connect with Rayma & her Girl Camper Group
Facebook Page – this is the link for where you can tag us and we can tag you! This is where I'll share general Girl Camper news, events and more. https://www.facebook.com/Girl-Camper-Ohio
Facebook Group – Please join the private Ohio Group so you can participate in this supportive and fun community! Private Black Hills/Ohio Chapter Group
Events-Be sure to check out the Girl Camper Events I'm hosting.