By Lisa Dempsey
Exploring Huntsville State Park
As a Girl Camper, I have enjoyed venturing into numerous natural wonders. One such gem holds a special place in my heart, Huntsville State Park, located in Huntsville, Texas. This park is just over a one-hour drive from my home and is nestled in the beauty of the Sam Houston National Forest. It holds a special place in my heart because it is the location of my initial overnight shakedown stays for my new trailers and where I took my granddaughter for her first camping adventure with her "Momsie."
Furthermore, this woodland destination offers abundant scenic beauty, outdoor activities, and a chance to connect with nature just outside of Houston, TX, one of the country's largest cities. Huntsville State Park spans over 2,000 acres and is known for its lush pine forests, picturesque lakes, and abundant wildlife.
Additionally, Huntsville State Park has several different camping loops with over 150 campsites in total; over 100 sites have water and electricity, and 21 have full hook-ups with water, electricity, and sewer. They also have cabins and screened shelters overlooking Lake Raven. The amount of trees in this park provides most campsites with some shade during the heat of summer.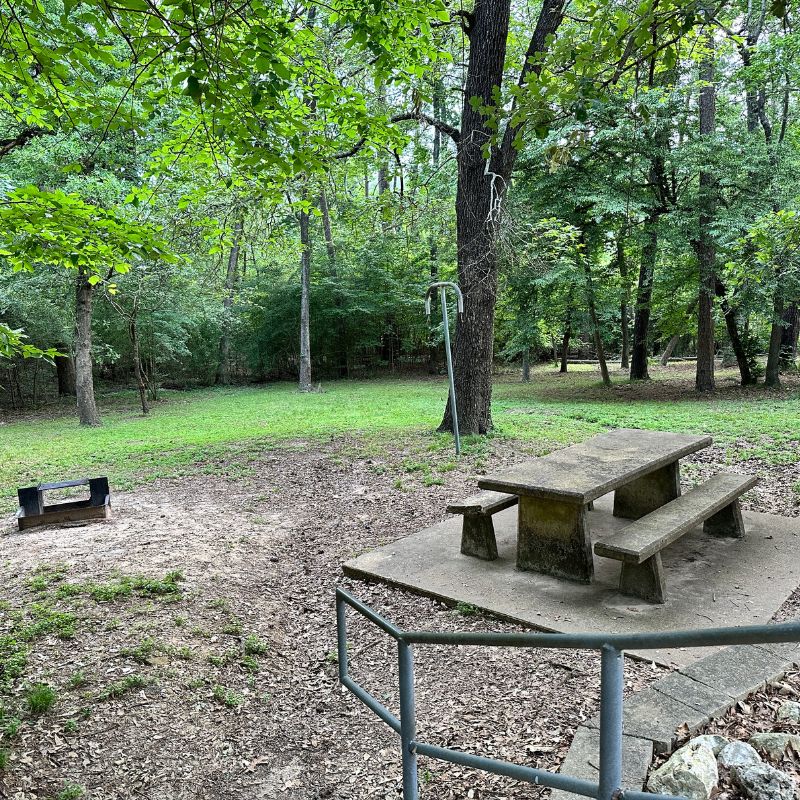 Things to do in Huntsville State Park
Firstly, stop in the park's nature center to learn about the wildlife in the area, especially the alligators. Lake Raven in Huntsville State Park is home to many alligators. You can watch them glide around on top of the water from the fishing pier and boat launch area. A healthy dose of respect and a little distance will protect you from these local predators. They are fascinating to observe in their natural habitat.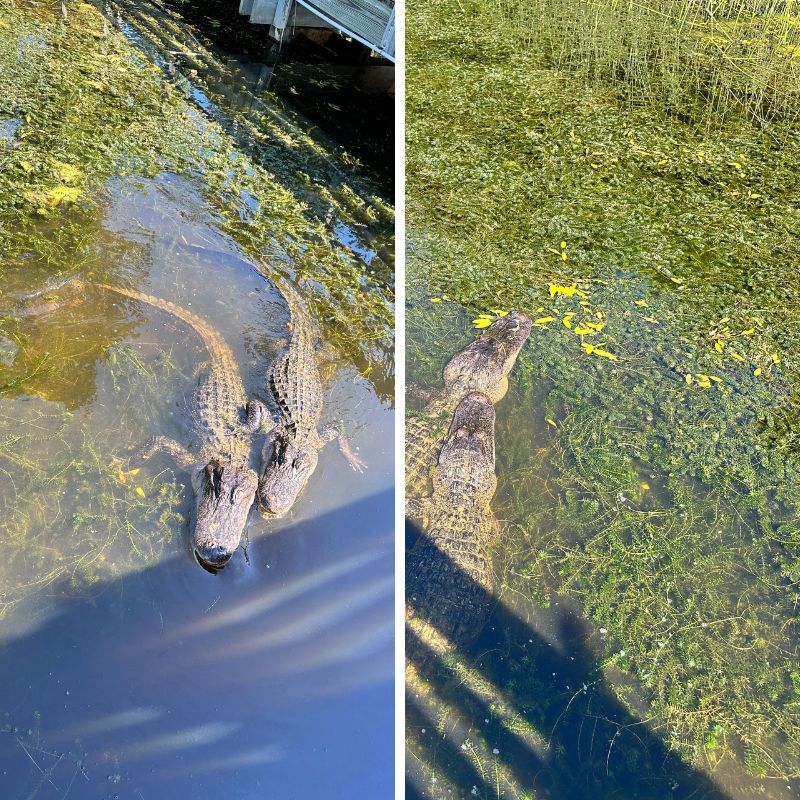 Take a Hike
Lace up your hiking boots and embark on the park's scenic nature trails. From the 1.7-mile Prairie Branch Loop Trail to the 7.7-mile Chinquapin Trail, there's a path for every level of hiker, providing opportunities to immerse yourself in the park's diverse ecosystems and spot fascinating wildlife.
Unquestionably, the short Loblolly Trail behind the Nature Center in Huntsville State Park is perfect for little tykes at only .02 miles round trip. Pick up the Visual Scavenger Hunt to take with you on the hike from the park office or the Nature Center. Remember to stay hydrated and always bring water on even the shortest trek. Below is a picture of our hike as the sun set over Lake Raven near the boat ramp.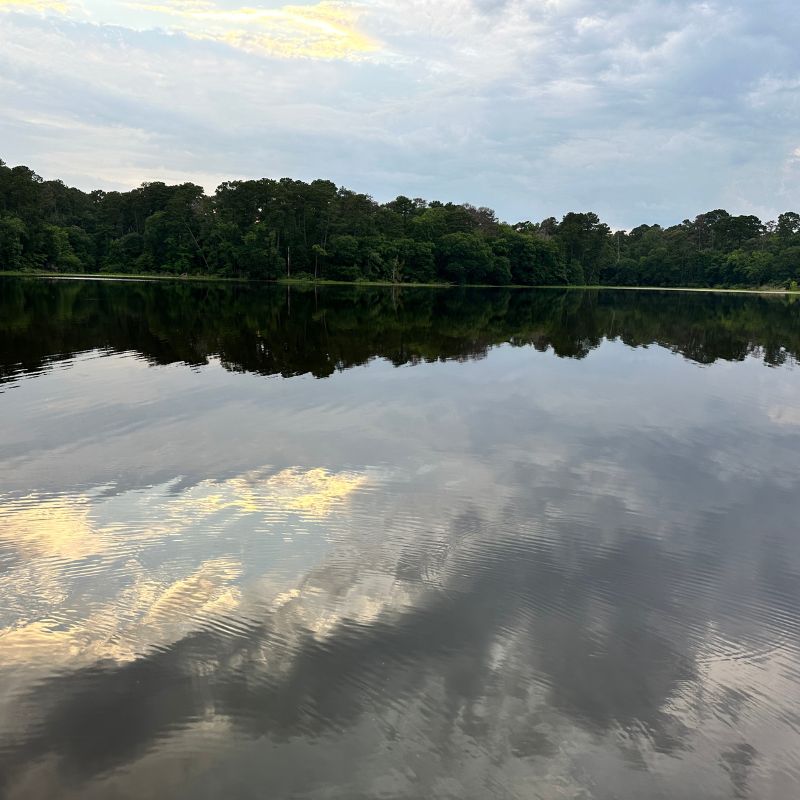 Kayaking, Fishing, & Swimming
Nestled within the park, Lake Raven is a serene 210-acre reservoir that beckons water enthusiasts. Embark on a kayaking adventure. If you do not own a kayak or canoe, the park has kayaks and paddle boats for rent. Cast your fishing line from the fishing pier or off your small boat.
Before putting your watercraft in the lake, check the engine size and boating restrictions before entering the lake. A dedicated swimming area with a sandy beach and swimming platform is perfect for staying cool under the Texas sun.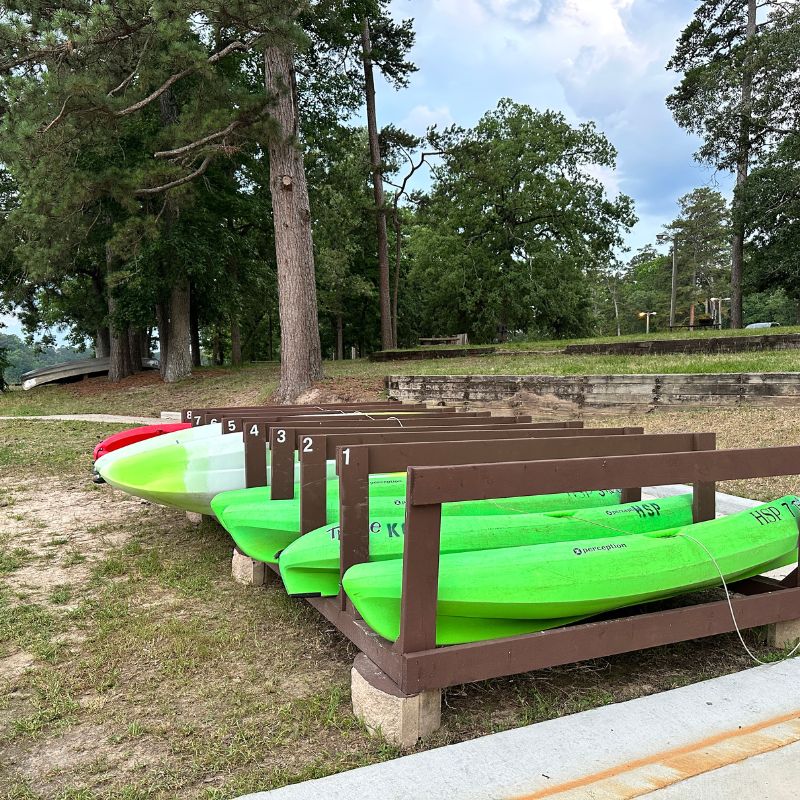 Birdwatching Haven
Basically, with its diverse habitat, Huntsville State Park is a birdwatcher's paradise. Over 200 bird species have been recorded here, including the majestic bald eagle, vibrant Painted Bunting, and the melodious song of the Carolina wren. The colorful Blue Jays and Cardinals will be outside your door searching for breakfast each morning. Remember to bring your binoculars! The nature center has a list of bird that live in the park or migrate through each season.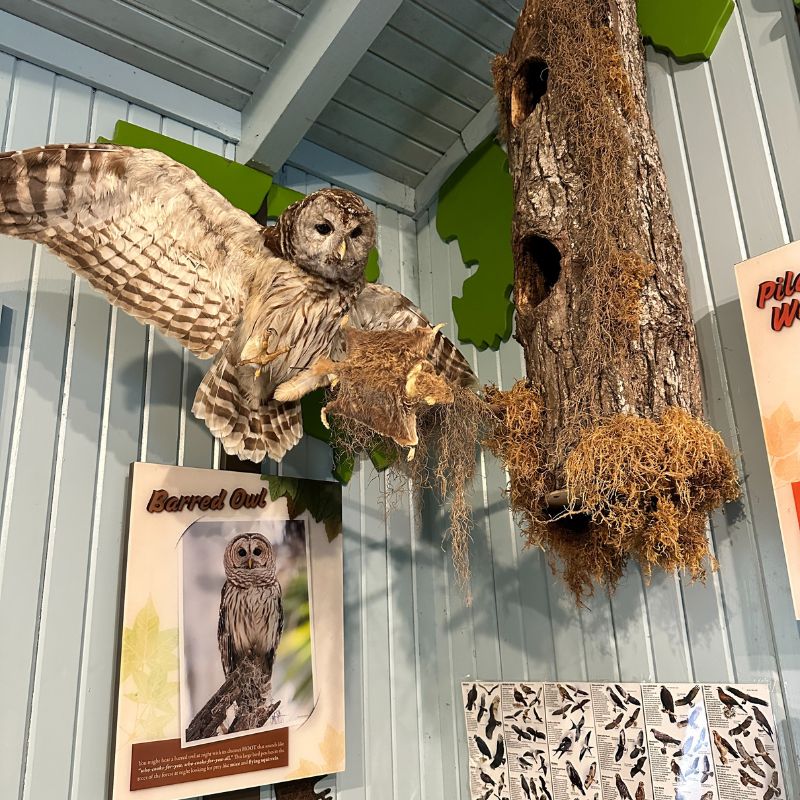 Pack a Picnic
If you prefer a day visit, enjoy a leisurely picnic under the shade of towering trees and savor the peaceful ambiance. Several picnicking areas have playgrounds and bathrooms throughout the park, including one by the swimming area.
Civilian Conservation Corps Buildings
Furthermore, this park was constructed in 1937 by a CCC company of Americans of African Decent Veterans. The park website states, "The men constructed the dam, the group recreation hall, and the boat house. Other projects included a frame pump house, stone culverts, and stone road curbing." Click here to learn more about the Civilian Conservation Corps and Texas State Parks.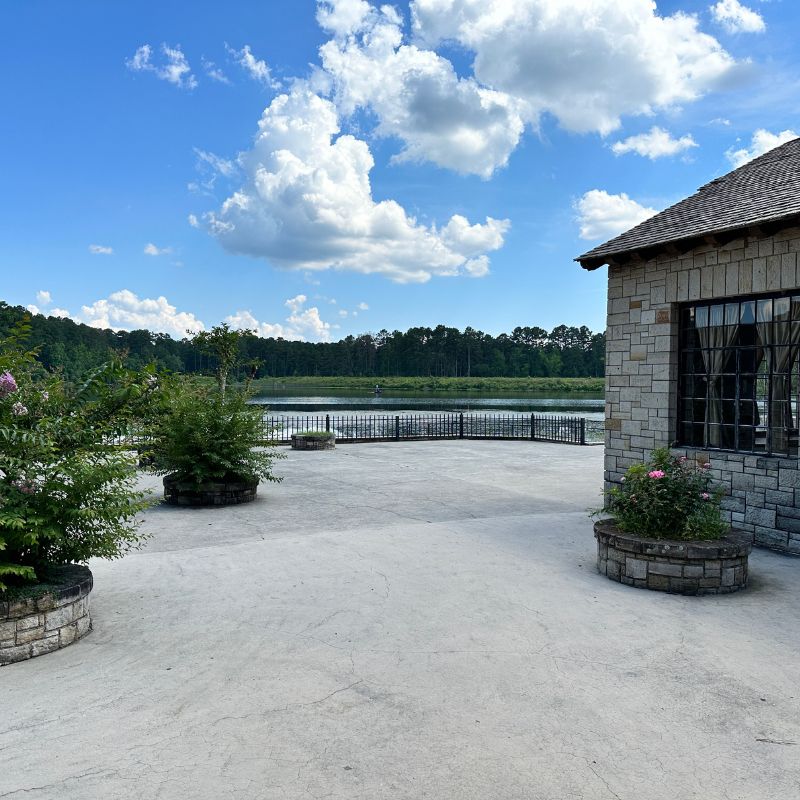 Visit Big Sam
Without a doubt, this is a must-do activity. Big Sam is a 67-foot-tall statue of one of Texas' Founding Fathers, Sam Houston. Big Sam is a great photo opportunity and a fun and free place to stop and learn about Texas history. The Sam Houston Memorial Museum delves into the rich history of Texas. Located a stone's throw away from the Huntsville State Park's entrance, this museum showcases artifacts, exhibits, and beautifully restored buildings that vividly depict the legendary Sam Houston's life and the state's history.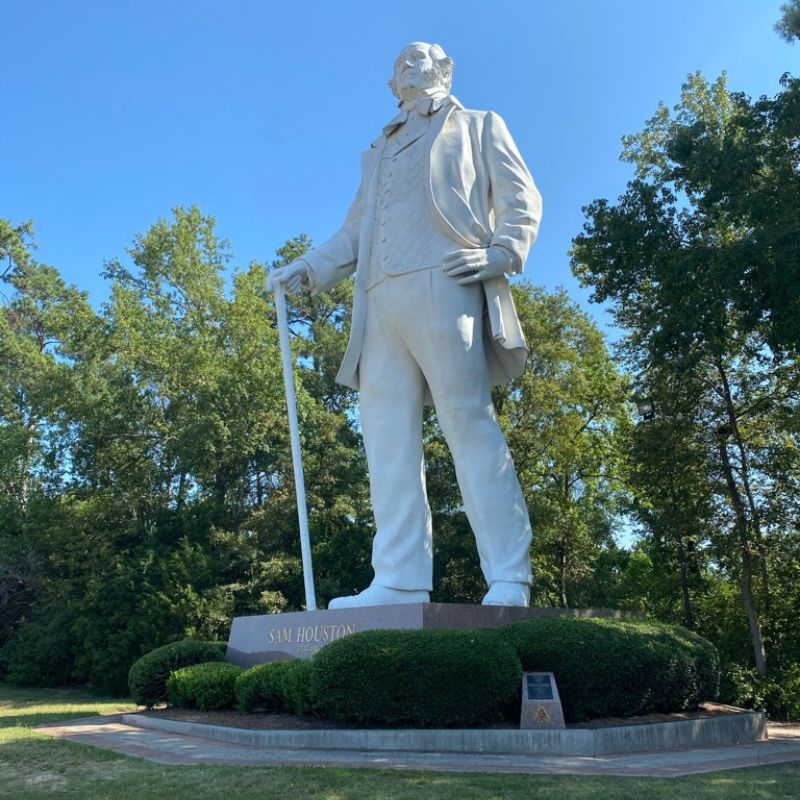 My recent Girl Camper Kid Along Camp event occurred at Huntsville State Park. Ten grandmas and aunts brought their kiddos, ages four to twelve, to the park for a three-night campout. We had rain and a severe thunderstorm one night, but everyone managed to have a Texas-sized good time. I am lucky to camp with so many great women as the Girl Camper Southeast Texas Guide. I hope you will join us around the campfire one day; in the meantime, go and visit Huntsville State Park!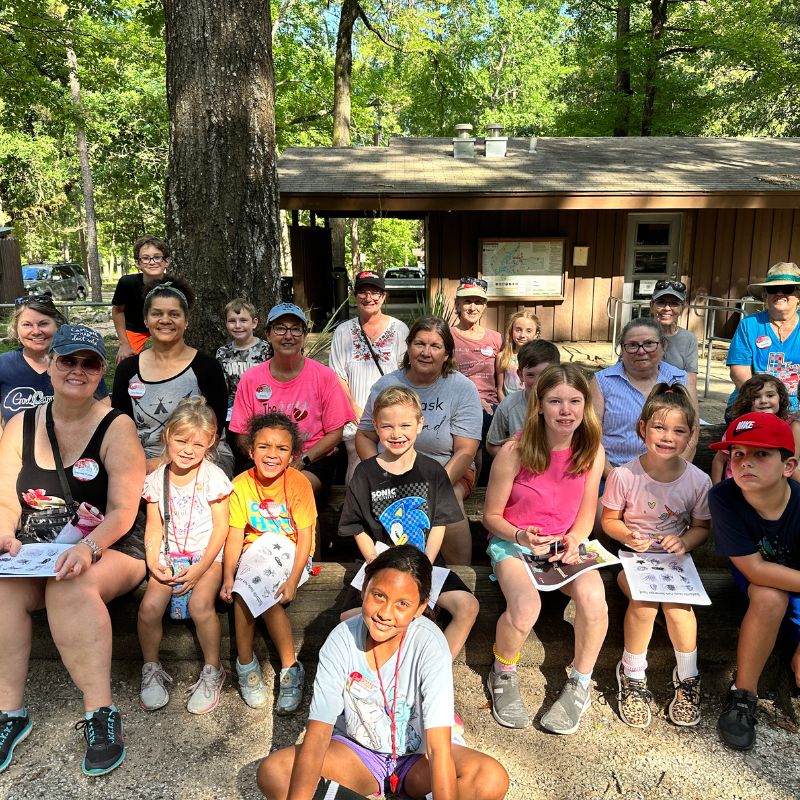 ---
Lisa Dempsey is the Southeast Texas Chapter Guide for Girl Camper. She lives in Kingwood, Texas, with her husband Robert, two fluffy Cardigan Welsh Corgis, and her teenage son. In addition to being a guide, Lisa is the CEO and Founder of the Forgotten Wishes Foundation, whose mission is to help people with disabilities combat feelings of loneliness and isolation and create a society of belonging.
Girl Camper is a women's lifestyle brand focusing on camping, outdoor activities, camaraderie, and travel. Our national company produces the award-winning Girl Camper Magazine, has a website with informative and fun blog posts, hosts events and excursions, and maintains national and local social network communities on Facebook. Search for Girl Camper on Facebook and find your local chapter.
---