Every once in a while, you have to clear the clutter and bring order to your RV. Just like a sticks and bricks house, things can get out of hand. I spent a very pleasant day in my RV emptying every cabinet and really deciding on whether what I was unearthing from the depths of the cabinets was worthy of a spot. Each item that you bring along adds not only physical weight but mental weight. When you have to dig past things to get at what you are looking for, your vacation vibe can start fading quickly. I dug in to not only declutter but to organize and better access what made the cut.
The silverware drawer was a real problem. It was plenty large but not being utilized to its full potential. I started by taking out the premade storage container the manufacturer put in because it wasted a lot of real estate. I found some clear shallow lucite pans that fit perfectly in the drawer. Lucky break. This allowed me to separate all the gadgets from the utensils and be able to see what I was looking for at a glance. I also love that I can simply pull out the cutlery bin and take it outside to the picnic table. I not only fit a lot more in the space, but I can now find what I am searching for.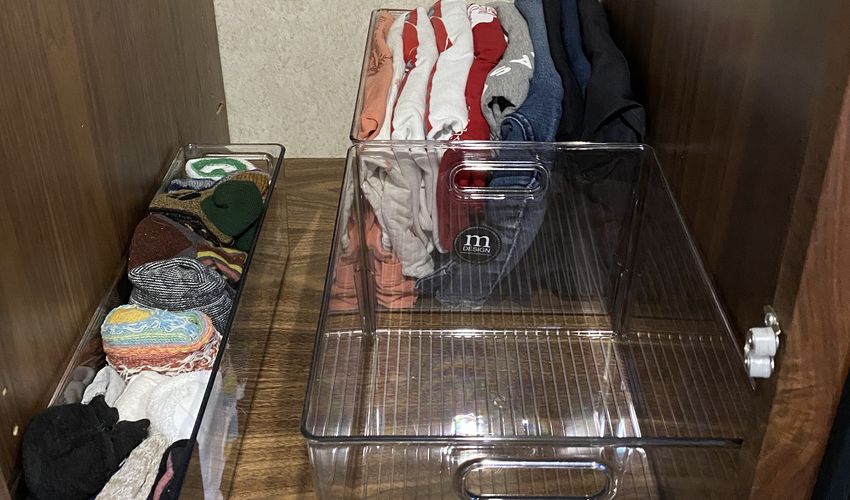 Read more of Janine Pettit's organizing tips on Go RVing here.
More Girl Camper
Girl Camper Magazine: Subscribe to Girl Camper Magazine here! Girl Camper Magazine
Events: Check out upcoming Girl Camper Events – you can attend events in any chapter! https://girlcamper.com/events/
Main GC Facebook Group – Join over 400,000 like-minded women in our public Facebook group! Girl Camper FB Group