By Deanne Kelly
This is the 2022 year in review for Colorado Girl Camper events. Upon taking over as the Colorado Girl Camper Guide in October 2021 (after our former Guide moved away) I got right to work and hit the ground running. I have been to plenty of Girl Camper events over the years. On the other hand, I had never actually planned one.
The weather isn't really conducive to camping in most of Colorado during the winter. Therefore, I decided to start planning a couple meet & greet events for after the first of the year.
Meet & Greets
Our first meet & greet was in mid-January 2022 in the heated shop behind my home, on the north side of Denver.  We had a good turnout of about a dozen gals for soup & salad, I provided some educational information, and we got to know one another better. 
We have a lot of members from Colorado Springs, therefore, I always like to make it easy for them to attend events. For this reason, we held our next Meet & Greet at the library in Castle Pines (about ½-way between south Denver and Colorado Springs). We had 21 gals show up for sandwiches & salad, information and introductions.
Because it is still too cold to camp in March, ten of us got together at the library in Castle Pines again to work on various craft projects. We had many gals sewing; some did embroidery and others just came for the camaraderie.
Our First Campout of 2022
Finally, our first campout in April 2022 at Cherry Creek State Park.   It turned out to be a beautiful weekend but the weather had been cold and many of us didn't bother to un-winterize our campers for this event.   Twenty-one gals camped together for this campout.   We had a pancake breakfast on Saturday morning and enjoyed steaming hot chili and hot dogs roasted over the campfire for dinner that night.   A homemade bug spray using essential oils was our "craft project" for the day.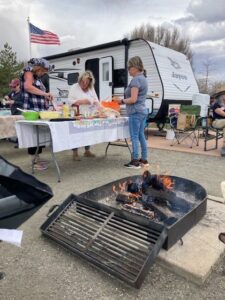 More Camping
In June 2022, nine of us gathered at the Lone-Duck Campground near Colorado Springs for a fun campout.   Our event hostess provided different gourmet S'mores for each of the three nights we camped.   If you haven't tried gourmet S'mores you really should!
August was our annual Cowgirl Round-Up in LaVeta Colorado in southern Colorado. This was our 5th Annual event at this location, a tradition that has carried on from our previous Colorado Guide. Twenty-three of us came together for a fun time starting with a pancake breakfast and trailer tour on Saturday morning. Some of us kayaked at a nearby lake, some explored the quaint town, and others hiked, rode their e-bikes, or visited other nearby towns on Saturday afternoon. A rousing game of Left-Center-Right was played following our potluck dinner on Saturday evening.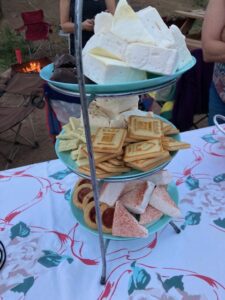 Fall Camping
In September twenty of us met at a campground near Grand Lake for a wonderful fall campout. This is near the western entrance to Rocky Mountain National Park so some explored the park, hiked the nearby mountains or visited the many shops in town.
In early October, six gals got together at a metro Denver quilt shop to sew a tiny little box-shaped bag.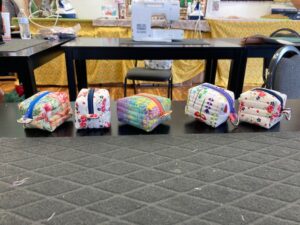 Our Last Campout
The first weekend in October is one of my favorite campouts an annual event held at a private ranch near Rocky Ford.  This is boondocking at its finest.   The lady that owns the ranch has the coolest covered chuckwagon and various firepits set up for campfire cooking.  Nine of us gathered here and enjoyed each other's company and some shopping in a nearby town.  We even timed our campout to coincide with the first annual Tarantula Fest. Some of the girls expressed an interest in this, others not so much.   We did have one lonely tarantula that made its way through my campsite.   This area is known for farm stands with locally grown produce.   Let's just say a few of us went home with some fruits & veggies and a few treasures we found at some shops in town.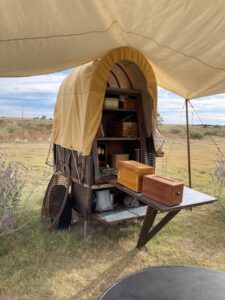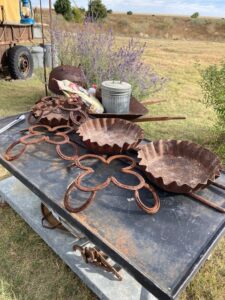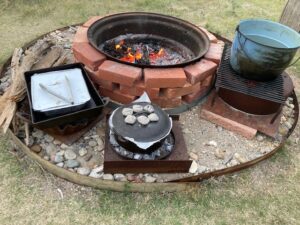 Winter Events
By mid-October most of us have winterized our campers. Because of this, it is time to think about other activities to keep us busy during the wintertime.   Twelve gals got together at a quilt shop in Monument in November 2022 to work on some craft and/or sewing projects and to visit with each other as we worked.
Lastly, in December, twenty-three of us enjoyed our final event for 2022. A catered lunch and white elephant gift exchange was held at the Castle Pines Library.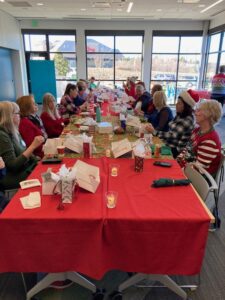 Be sure to check out the events that are posted on the event page for 2023, you won't want to miss out on the fun we have planned.
Here are some links to other stories you might enjoy reading:
My First Year of Girl Camper – Girl Camper
How to Start Camping Like a Girl – Girl Camper
How I Organized My Camping Gear – Girl Camper
Deanne Kelly
Girl Camper Guide – Colorado
Contributing Editor/Writer/Photographer
3783 Golden Eagle Drive
Dacono, CO 80514
303-810-4256
Follow me on my Facebook Page
Join our FB Group