From travel trailers, tents, and trucks to minivans and motorhomes—we all have our own camping style. Although Indiana is home, I often leave my trailer behind and car camp in Tennessee's Great Smoky Mountains National Park with no electricity nor showers. (For the record, my favorite sites are in Cades Cove, Elkmont, and Smokemont.)
Whatever our camp style, there are times when a cabin fits the bill because:
it's too hot (or cold) with no A/C or heat.
it's easier for travel companions.
your camper/tent is too small for your group.
you've had surgery with physical restrictions.
adult kids and grandkids are coming along.
sometimes, a Girl Camper just wants to mix it up a bit—and hey, those little cabins adore the attention. (I loved adding Christmas sparkle to our KOA porch in Pigeon Forge!)
The points above were my situations in Tennessee and Indiana during three different seasons, but others might include:
Attending a Girl Camper event
Joining the fun with your camping friends/family.
Curiosity about the rapid rise in RV popularity.
An RV purchase is in your future.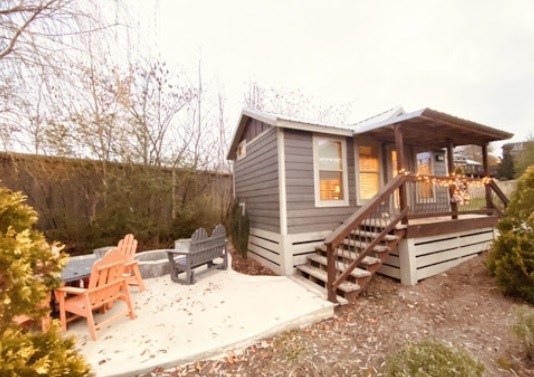 Comparing Cabins to Hotels
While cabins in a resort or commercial campground aren't necessarily cheaper than hotels, the price becomes more attractive if splitting the cost with friends or relatives.
Factor amenities such as pools, splash pads, patios, grills, mini golf, kitchens, and fresh air into the total cost. The privacy a cabin offers is also a major plus. My favorite amenity? Morning coffee on the porch swing.
Less square footage saves money but be realistic prior to booking. My close-knit tribe of Aunt Plus Three Girl Cousins once enjoyed outrageous fun in a small cabin with a bed, bunks, and a small bath, but that arrangement might be a deal breaker for many. Know thy roommates.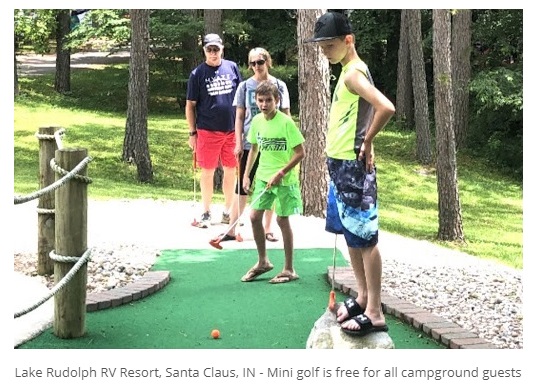 My Cabin Rental History

Price Considerations
Location and season are price factors.
Weekends and holidays are more expensive.
Parts of June and August may have lower rates than July.
"Deluxe" often signifies a bathroom.
A full bed with one set of bunks is usually standard in the lower priced units. No linens/towels.
Watch for discounts during the off season.
Using a mid-July weekend at KOA as a general example:
Expect to pay about $105 a night for a one-room/sleeps four/no bath cabin. (See the yellow bedspread photo.) These often sell out quickly.
A deluxe unit/sleeps four/kitchenette/with bath runs around $190.00 per night.
A deluxe unit/loft/sleeps eight/kitchen/with bath runs about $250 a night.
Before You Book
Triple check the cancellation/penalty policy. Two weeks is common, but holidays often have additional restrictions/penalties.
Ask about your cabin location. On a hillside or level? How far from the pool/office? Are linens/towels/hair dryer furnished?
Call to verify the parking situation. How many spaces are specifically yours? Is it level? Is it by your cabin? Will trucks/large SUVs fit?
Check reviews concerning cell service and WiFi.
Reserve golf carts early if available. They often sell out.
Know the pet policy and fee.
Sounds Fun?
Cabins are definitely good alternatives. The cost prohibits using them as frequently as my travel trailer, but an occasional visit is simply fun and easy.
P.S. If your stay coincides with a holiday, be sure to pack a few twinkle lights for a splash of girl camper ambience. Enjoy!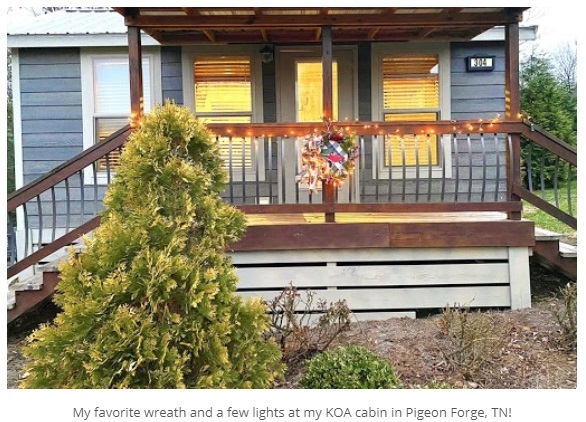 Article written by: MariLou Parsons